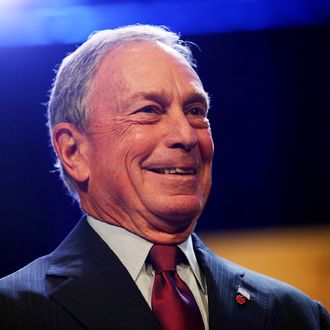 Photo: Spencer Platt/Getty Images
While Michael Bloomberg declared during his last days as mayor, "I'm not going back to Bloomberg LP," it appears that taking down the NRA and picking fights with Wolf Blitzer are no substitute for ruling thousands of people. It was announced on Wednesday night that Bloomberg will once again head Bloomberg LP, the company he founded in 1981. There's just one little awkward detail: Bloomberg's return means current CEO Daniel Doctoroff, a former deputy mayor and Bloomberg's longtime friend, is out of a job.
In a joint New York Times interview about their conscious uncoupling, Doctoroff summed up the problem in terms his pal surely enjoyed:
Mike is kind of like God at the company. He created the universe. He issued the Ten Commandments and then he disappeared. And then he came back. You have to understand that when God comes back, things are going to be different. When God reappeared, people defer.
Nine months ago, Doctoroff announced that when the former mayor happened to be in New York, he would "spend a few hours a day working from his new desk" at the financial data and media company. Then came reports that Bloomberg was showing up to 7:30 a.m. editorial meetings, and eventually employees noticed that their billionaire boss was hanging around all day and taking on a larger role in meetings and strategy decisions.
As the two friends tell it, last month Doctoroff told Bloomberg he wanted to resign. "When Mike decided he wanted to spend some time at the company, and then spent more time, obviously things changed," he said. "It isn't the job I had for the past six years. It's his — he wants to be involved. He doesn't want to consult with me on everything. I get that."
In a press release, Bloomberg said that he initially tried to refuse Doctoroff's "gracious and thoughtful" offer. "This is a sad day for me and my company," he said.  "I really wanted Dan to stay and continue in his leadership role. But I understand his decision. I never intended to come back to Bloomberg LP after twelve years as Mayor. However, the more time I spent reacquainting myself with the company, the more exciting and interesting I found it — in large part, due to Dan's efforts."
They insist their split is amicable. Doctoroff emphasized that he's not leaving Bloomberg LP for a specific opportunity at another company, and Bloomberg said he will "continue to be my friend, advisor and partner for years to come." Doctoroff is joining the Board of Bloomberg Philanthropies, and Bloomberg said, "I'm sure I will personally support future initiatives he decides to pursue." For future reference, breaking up with a billionaire sounds a lot easier than haggling with your ex over who gets to keep the West Wing DVDs.