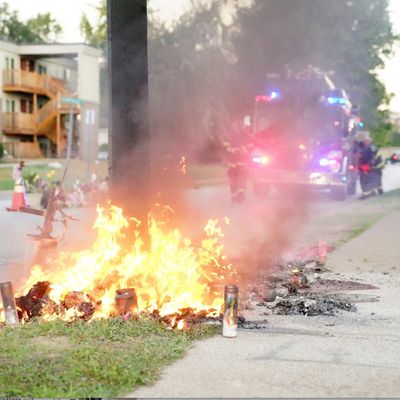 Photo: Jacob/David/We Copwatch
A collection of cards and teddy bears near where 18-year-old Michael Brown was shot and killed by officer Darren Wilson last month caught fire early this morning, leaving a heap of ash on the Ferguson street. If not a hateful act, it's at the very least a heartbreaking image. 
The St. Louis Post-Dispatch reports that burning candles were part of the memorial, and the fire may have been accidental. However, "Some residents of the area were upset, claiming the fire was set by someone in the pre-dawn hours early Tuesday and that they smelled gasoline in the aftermath."  ("Oops!" says a particularly disgusting right-wing blog.)
Another memorial in the road a few yards away remains, commemorating the teen's death.
Update: In an uplifting twist, the town has already come together to make the destroyed memorial bigger and better.