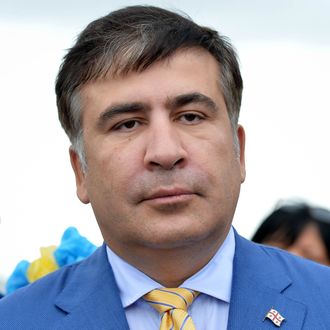 Photo: Art Widak / Demotix
Just because you used to be the leader of a small Eurasian nation doesn't mean you can't enjoy the simpler things in life, like drinking from a coconut at Smorgasburg or hanging out on the rooftop at the Wythe Hotel. 
Mikheil Saakashvili, who served as the president of Georgia for nine years before being voted out in 2013, now lives a charming existence in a cozy Williamsburg high-rise, rumored to be the same building where Tumblr founder David Karp resides. When he isn't riding the L train to Cafe Mogador or making poignant observations about his fellow Brooklynites ("[Hasidic Jews] walk around in these big hats!"), Saakashvili spends his time plotting his return to Georgia, a move he thinks will be made possible by growing anti-Putin sentiment.
Of course, there is that pesky indictment for allegedly using the country's money to pay for stuff like Botox and art created using the body of a naked lady, but that's nothing an enterprising hipster ex-president can't get past. Besides, he sees Williamsburg as a model for democracy:
"I used to look at this place from Manhattan, it was such a pity, it was mafia, a place where hit men dump bodies," he said, recalling his time in the 1990s as a Columbia University Law School student. Now he sees "a jazzy atmosphere" rife with energy and new construction.

"Williamsburg is part of the democratic transformation," he said.
Hey, Mr. Saakashvili, see you tonight at Union Pool? Ha-ha, nah, I haven't been to Williamsburg in years.