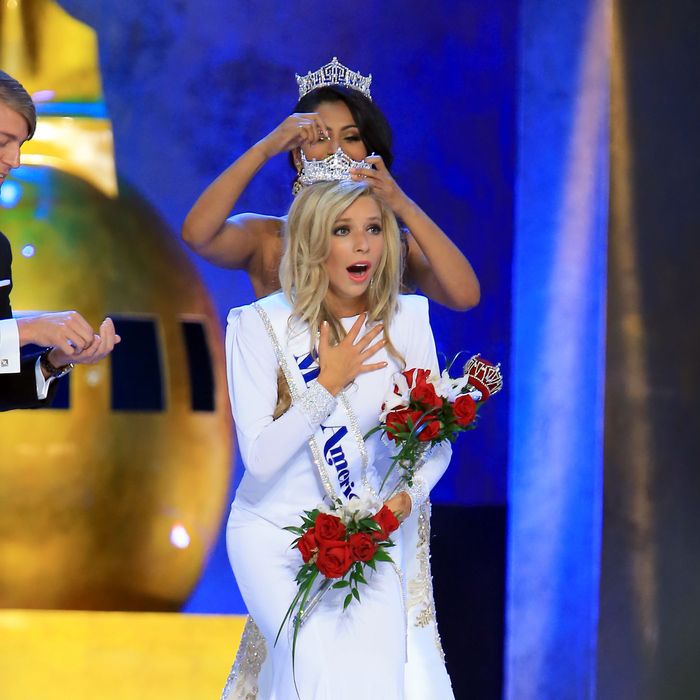 Photo: MJT/AdMedia/MJT/AdMedia
The other 49 states will have to do New York's laundry for another year (or something), as Miss New York took home the Miss America crown for an unprecedented third year in a row on Sunday night. Kira Kazantsev, 23, is originally from California, but moved to New York five years ago to attend Hofstra University. She is fluent in three languages, has already been accepted to Fordham Law School, and will focus on combating domestic violence during her reign. But despite her impressive résumé, there were still some who dared to challenge her right to the throne, arguing that banging a plastic cup on the ground while singing Pharrell Williams's "Happy" isn't a "talent."
Here's a look at Kazantsev's Pitch Perfect–inspired performance:
And here's a sample of the treasonous response from her future subjects:
"The reason why I chose to do that talent is I wanted every single little girl in America to be able to see that you can do that talent — you can do whatever talent you want on national television — even with a red cup — and still be Miss America and have the time of your life," Kazantsev explained after the performance. "I literally in that minute and 30 seconds had the most fun I've ever had, and that's because I stayed true to myself and I did what I wanted to do for my talent, no matter what everybody else told me, and it paid off. I'm very happy about it."
In this post-Kardashian world, it's so important that our daughters learn they don't need a "real" talent to be on TV.