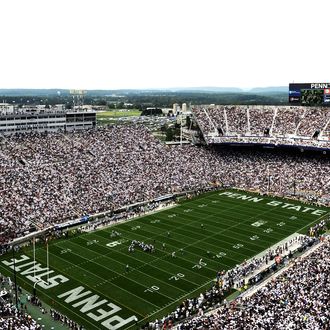 Penn State's Beaver Stadium.
Photo: Patrick Smith/Getty Images
The NCAA is restoring Penn State's postseason eligibility, effective immediately, and the school will be able to offer a full complement of football scholarships starting in the 2015–16 season. As part of the NCAA's 2012 sanctions against the university in the wake of the Jerry Sandusky child sex-abuse scandal, the football team was banned from postseason play for four years and the number of scholarships it could offer was reduced.
George Mitchell, the former U.S. senator serving as the university's athletics integrity monitor, recommended the change in his second annual report on the school's progress, and the NCAA's executive committee agreed with his assessment that sufficient progress had been made. From the NCAA's website:
"Penn State's commitment to the integrity of its athletics department and its progress toward meeting the requirements of the Consent Decree are clear," said Northern Arizona President Rita Hartung Cheng, who chaired Monday's Executive Committee meeting. "We thank Senator Mitchell for his meticulous and exhaustive work over the past two years. Mitchell's efforts and the dedication of Penn State officials made today's decisions possible."
Penn State, by the way, plays Rutgers (the alma mater of Ray Rice) on Saturday. Awful story lines galore for that one.