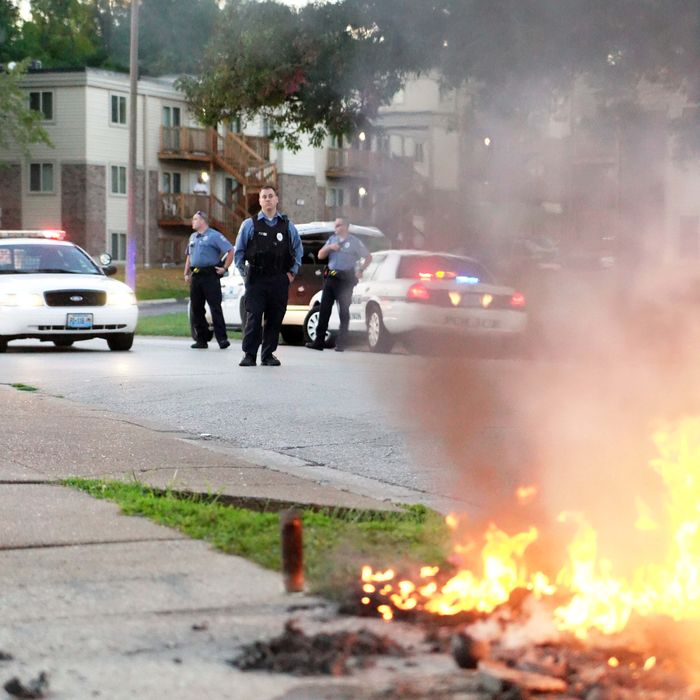 People in Ferguson were quick to rebuild the Michael Brown memorial after it went up in flames on Tuesday, but it appears the incident is at least partly to blame for a new round of unrest in the Missouri town. On Tuesday night, there was a break-in at Beauty Town on West Florissant Avenue. As police responded to the incident, gunshots were heard and about 200 protesters gathered in the street. While it was nowhere near the scale of the demonstrations that rocked the area in August, the scene had many familiar elements and ended with the arrest of several protesters.
The fire that consumed the makeshift memorial on Canfield Drive, near where the 18-year-old was shot by Officer Darren Wilson, started around 6:45 a.m. local time on Tuesday. Authorities say the fire is still under investigation and suggested it might have been an accident caused by one of several candles left at the site. However, many residents believe that the blaze was set intentionally, and one person told KDSK reporter Casey Nolan that it was "naïve" to think otherwise.
There were several small, peaceful demonstrations throughout the day, and a few dozen protesters gathered in the early evening after a Ferguson City Council meeting on Brown's death. Around 9 p.m., Beauty Town's window was smashed, and some said they saw a few people running from the scene with merchandise.
Beauty Town was looted twice during the initial protests and Juan Santos, the store's manager, said the window was just replaced last week for $1,300. Santos boarded up the windows again on Tuesday and said he'll "probably leave them up for a while now."
The protest grew and became more unruly as police arrived on the scene. Some officers had body cameras, and none were wearing riot gear. Several gunshots were reported, but it's unclear if they were related to the break-in.
Missouri Highway Patrol Captain Ronald Johnson, St. Louis County Police Chief Jon Belmar, and St. Louis Police Chief Sam Dotson were on the scene. Protesters stood several feet from the police, chanting familiar slogans about Brown's death.
At 11:20 p.m., the fire department responded to a call about a fire outside the nearby Whistle Stop and Depot Museum custard shop. The store's owner managed to put it out using a garden hose before they arrived. There was a strong smell of gasoline, and the St. Louis County bomb and arson squad was called in to investigate.
Around midnight, police began clearing the area. A few protesters responded by throwing rocks and bottles, and at least three people were arrested.
By 1 a.m., police had reopened the street. Coincidentally, the new unrest came just hours after Attorney General Eric Holder delivered a speech on Ferguson at New York University's Brennan Center for Justice.
"These tensions simmer every day in far too many communities across the country," Holder said. "The situation in Ferguson has presented leaders across the nation … with a moment of decision, a moment of decision, a series of important questions that can no longer be avoided."