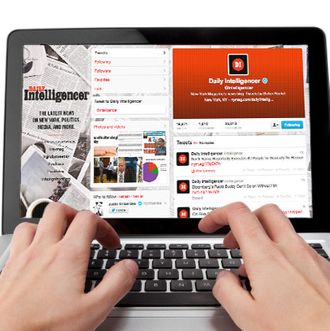 Welcome back to the New York Magazine Competition. On alternate Mondays, we lay out a challenge and offer a sample responses. Enter in the comments section, or on Twitter with the hashtag we've provided, and the editors will select a winner. Criteria are highly subjective, but heavily retweeted and favorited posts will have an advantage. The prize is a year's subscription to New York in print or a two-year subscription to the iPad edition (winner's choice). Full rules are here.
COMPETITION NO. 31: IF EVERY COMPANY WERE APPLE. Please envision other companies' product launches on the Apple model. For example:
General Motors: Slips into every Buick owner's garage and puts a Nickelback CD in the trunk.
Kellogg's: Each new cereal box is half an inch taller than the old, requiring new pantry shelves.
Oscar Mayer: Design chief, in 12-minute video, expounds on jewellike fat flecks in iBologna+.
Levi's: Cloud-based pants! They almost never vanish without warning.
Enter in the comments thread on nymag.com's Daily Intelligencer, or on Twitter with the hashtag #ifeverycompanywereapple, by October 1
RESULTS OF COMPETITION NO. 30: NOTES HOME FROM SCHOOL, in which you were asked to compose a teacher's letter to the parent of a familiar student.
HONORABLE MENTION TO:
Dear Mrs. Boehner,
The plant lights in the Science Room are missing again.
—ggreg
Dear Joseph and Mary,
Due to complaints from other parents, I'm afraid we've had to cut Jesus from the swim team.
—fizbadger
Dear Mrs. Cleese,
During our fire drill, as students were instructed to walk out of their classrooms in an orderly fashion, your son was quite disruptive.
—theelster
Mr. and Mrs. Oakley,
Please remind Annie of our zero tolerance policy.
—contestantkamins
Dear Ms. Gaga,
Stefanie wore her lunch at school again today.
—jackip
Dear Mr. and Mrs. Sandberg,
We are referring Sheryl to posture class.  
—onvacation
Dear Ms. Soetoro,
In compliance with state laws, please provide us with a copy of Barry's birth certificate so he can attend school …
—RustyShackelford
Dear Mr. and Mrs. Rodham,
Hillary broke the glass ceiling again.
—j_son
Dear Mrs. Goodell,
Please inform your son Roger that beating up a female classmate does in fact warrant a longer detention than smoking in the boys room.
—contrarian_dip
Señora Picasso,
We recommend you take your son to have his eyes tested.
—rmtmiller
Dear Ms. Weiner,
We need to talk about "show & tell."
—KattsDogma
AND THE WINNER IS:
Dear Mrs. Fudd,
Perhaps you haven't noticed …
—@bobpiano