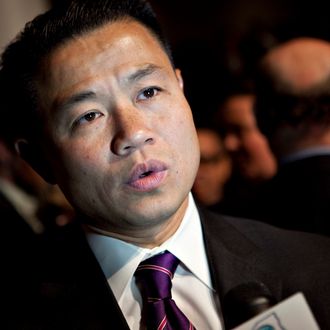 John Liu.
Photo: Daniel Acker/Bloomberg via Getty ImagesBloomberg/2010 Bloomberg
While there was no major upset in New York's gubernatorial primary, the smaller races were a bit less predictable. Adriano Espaillat will keep his seat in the State Senate after beating Robert Jackson, an ally of his two-time congressional rival Charlie Rangel, with just over 50 percent of the vote in Upper Manhattan's District 31. John Liu, the former city comptroller who lost his mayoral bid, wasn't as successful. Incumbent state senator Tony Avella claimed victory in Queens's District 11 after taking 52 percent of the vote to Liu's 48 percent — though at the end of the night Liu declared, "Every vote counts, so every vote must be counted," and said he still thinks he'll be victorious.
As for the various candidates facing prison time, it turns out New Yorkers are rather forgiving. State Senator Thomas Libous, who represents the Binghamton area, won the Republican nomination, though he's accused of making false statements to the FBI. In Brooklyn, Democratic state senator John Sampson, who allegedly stole $400,000 from a housing fund, beat three challengers with 54 percent of the vote.
Incumbent Democratic senator Malcolm Smith is the only indicted candidate who didn't survive his primary. Smith, who's accused of trying to bribe his way into last year's mayoral race, was rejected by Queens voters in favor of former city councilman Leroy Comrie, who took 70 percent of the vote.
And, as if Albany won't be exciting enough with all the ongoing indictment drama, Charles Barron, the former Black Panther and three-time city councilman, won his race in East New York's 60th District, and will take his provocative brand of politics to the State Assembly.