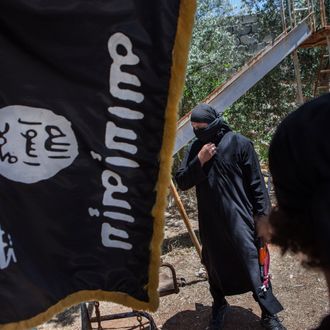 Photo: Daniel Leal-Olivas/Corbis
A 30-year-old in Rochester with a generally pro-terrorist Twitter account and a lustrous head of hair has been indicted for attempting to provide material support to the Islamic State, the latest in a string of domestic supporters for the militant group. Not quite joining the fight himself, Mufid Elfgeeh allegedly chipped in to sponsor three men interested in traveling to Syria to "engage in violent jihad," according to the Justice Department. Little did he know, two of them were working for the U.S. government.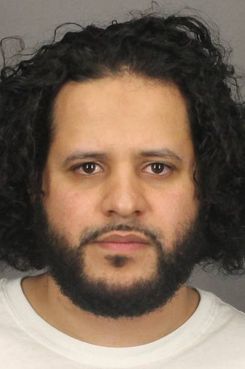 Elfgeeh was also charged with plotting to kill returning members of the United States military, the New York Times reports — he allegedly threatened to "just go around and start shooting" — going so far as to buy two handguns with silencers. The man who bought him the guns — you guessed it — was law enforcement, and Elfgeeh was promptly arrested.
"We will remain aggressive in identifying and disrupting those who seek to provide support to ISIL and other terrorist groups that are bent on inflicting harm upon Americans. As this case shows, our agents and prosecutors are using all the investigative tools at our disposal to break up these plots before individuals can put their plans into action," said Attorney General Eric Holder in a statement. "We are focused on breaking up these activities on the front end, before supporters of ISIL can make good on plans to travel to the region or recruit sympathizers to this cause."
In this case, as usual, that meant plucking the hapless would-be terrorist supporter from the internet, the New York Post reports: "The investigation included linking Elfgeeh's home computer to tweets from alias Twitter accounts expressing support for al Qaeda, violent holy war and Sunni insurgent groups in Syria." (Considering al Qaeda and ISIS also happen to be at war, Elfgeeh doesn't appear to be picky about his terrorist causes.)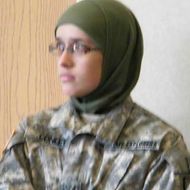 He's not alone: Shannon Conley, a 19-year-old nurse's aide from Colorado, has already pleaded guilty to trying to join ISIS after more or less getting Catfished by a terrorist. The "lonesome troubled teenager" was picked up from the Denver airport earlier this summer with a one-way ticket to Turkey, where she was hoping to meet the jihadist she fell in love with online.
Not all Americans interested in joining ISIS are so bumbling. The Pentagon believes about a dozen U.S. citizens are currently fighting alongside the Islamic State militants, with as many as 100 having joined various rebel groups in Syria. "There may be more," Defense Secretary Chuck Hagel said. "We don't know." More than 1,000 western Europeans are thought to have joined this particular jihad, including the man with the British accent seen beheading Americans James Foley and Steven Sotloff on camera.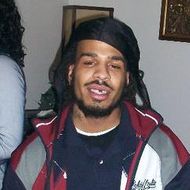 At least two American citizens have already died fighting for ISIS. The first to be identified was Douglas McAuthur McCain, a.k.a. "Duale ThaslaveofAllah" on Facebook, a 33-year-old from San Diego who tweeted passionately about his conversion to Islam. According to a former friend, "He was a goofball in high school."
Reportedly killed in the same battle as McCain was Somali-American Abdirahmaan Muhumed of Minneapolis, Minnesota, a hotbed of terrorist recruiting. From Reuters: 
At least three Somali families in the Minneapolis-St. Paul area have female relatives who have gone missing in the past six weeks and may have tried to join Islamic State, said community leader Abdirizak Bihi. […]

In a separate case, a 19-year-old American Somali woman from St. Paul snuck away from her parents on Aug. 25 saying she was going to a bridal shower. Instead, she flew to Turkey and joined IS in Syria.
Why so much interest in joining ISIS from the West? PBS's Frontline reports:
Some security experts call it the result of an increasing generational divide between Al Qaeda and ISIS, while others attribute the expanding lure to the group's stunning battlefield success, a savvy online recruitment strategy and the promise of life inside an Islamic caliphate.
Along with a strong Twitter presence, ISIS's "savvy" online recruitment now includes Hollywood-style movie trailers. In a new 52-second clip titled "Flames of War," bombs are shown backwards and in slow-motion amid a dramatic, Obama-starring montage. It even has a tagline: "Fighting Has Just Begun."