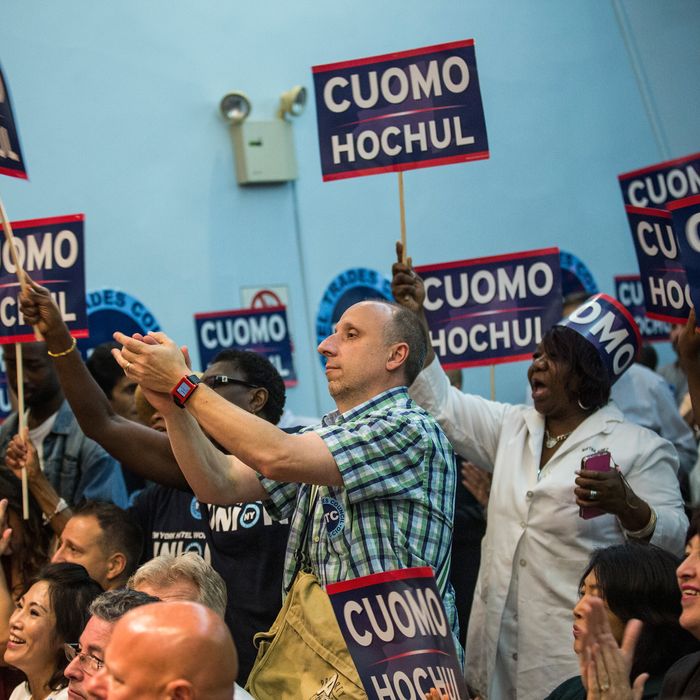 Photo: Andrew Burton/2014 Getty Images
Plan to make a detour on your way home from work today, because Tuesday is primary day in New York — yes, again! While you may recall voting in June, that was for federal offices. This time you'll be selecting your party's candidate for statewide offices, including governor, lieutenant governor, State Assembly, and State Senate. (Why two primaries? A court ruled congressional primaries must be in June, and Albany lawmakers can't agree on a consolidated primary date — which costs the state an estimated $50 million.) The biggest race is the Democratic gubernatorial primary, in which Andrew Cuomo faces Fordham Law School professor Zephyr Teachout. Or, if the governor's campaign strategy has been effective, Cuomo faces off against who?!
VOTING
Polls will be open from 6 a.m. to 9 p.m. You can find your polling site here, and check out the candidates in your district here. Voter turnout is expected to be pretty abysmal. Last year in New York City, only 700,000 people voted in the mayoral primary, or about 20 percent of registered Democrats and Republicans. Even fewer people are expected to show up for Tuesday's Carlos Danger–free primary. As Newsday notes, turnout in New York has been below average for at least three decades, and the state ranked dead last in voter turnout during the 2010 midterm election (and this is just a primary, not the general election).
GUBERNATORIAL RACE
Andrew Cuomo is heavily favored to win the Democratic nomination, and reelection in November, but he's facing a surprisingly loud challenge from the left. While Cuomo managed to legalize gay marriage, fund universal pre-K, and pass tough gun-control laws, Zephyr Teachout says he shouldn't call himself a Democrat, let alone a progressive. "His economic policies are indistinguishable from Ronald Reagan's," she told the Washington Post.
Teachout is a native of Vermont, and the former director of internet organizing for Howard Dean's 2004 presidential campaign. (A court rejected Cuomo's effort to toss her from the ballot for failing to meet New York's residency requirement.) By highlighting issues such as income inequality and Cuomo's business-friendly policies, Teachout is hoping to ride the same progressive wave that brought Mayor Bill de Blasio into office last year.
Teachout was recruited by the Working Families Party last spring, but after striking a deal with Cuomo, WFP backed the governor instead. Teachout chose to challenge Cuomo as a Democrat rather than bowing out of the race. She got a boost from the recent headlines about Cuomo's meddling with the Moreland Commission. The independent panel was supposed to address the rampant corruption in Albany, but the governor abruptly shut it down in March, and reportedly prevented the commission from investigating his administration. Teachout earned some more buzz when the New York Times refused to endorse Cuomo because he broke his campaign promise to clean up Albany (though, the paper wouldn't back Teachout either).
In an effort to maximize his margin of victory, Cuomo has chosen a strange (but possibly effective) strategy: He's ignoring Teachout, to the point of ridiculousness. He refused to debate her, and barely campaigned prior to last weekend. That plan has already backfired somewhat, as Teachout got even more exposure from a viral video that perfectly illustrates Cuomo's childish strategy. The clip shows Teachout approaching her rival at a Labor Day parade, and the governor turning his back on her in a frantic effort to pretend he can't see her.
Still, Teachout is definitely a long shot. A recent Quinnipiac University poll found Cuomo has a 78 percent favorability rating among Democrats, while 85 percent said they hadn't heard enough about Teachout to form an opinion of her. Also, she's raised only $541,000 to the governor's $35 million.
"I'm a real underdog, but I can still see a path to victory," Teachout told New York, citing Eric Cantor's shocking primary loss. "I want to be governor."
LIEUTENANT GOVERNOR RACE
The lieutenant governor's race is awkward for a number of reasons. Governors and lieutenant governors run separately in New York primaries, then on a single ticket in November. That means that while Cuomo has selected former one-term congresswoman Kathy Hochul as his running mate, he'll be paired with Teachout's pick, Columbia Law School Professor Tim Wu, if Hochul loses.
Hochul, who is from Buffalo, is well-known in Western New York, but not in the rest of the state. Wu, a Manhattan resident, is known within the tech community, but the average New Yorker is not familiar with the internet law expert, who coined the term "net neutrality."
Teachout and Wu have accused Hochul of being too conservative for New York's Democratic voters, citing her A rating from the NRA, her votes against Obamacare, and her opposition to a 2007 proposal to give driver's licenses to undocumented immigrants. Hochul said voters should look at her "record in its entirety," pointing to her support for abortion rights and same-sex marriage. (As for why Cuomo picked her, the governor lost Western New York in 2010, like his father before him. According to the Washington Post, "Cuomo's aides and advisers said the governor is obsessed with winning there this time around.")
Wu, who is making his first run for elected office, has been criticized for his lack of experience. While The Times said it could not back Teachout for that reason, the paper said Wu's inexperience shouldn't give voters pause, as "the office of lieutenant governor in New York is a feeble one."
STATE SENATE RACES TO WATCH
John Liu's Comeback Attempt in the 11th District
Tony Avella, who is seeking his third term in Albany, is popular among his Queens constituents, but according to the Queens Chronicle, he angered Democratic Party officials by joining the Independent Democratic Conference, a group of five state senators that have allied themselves with Senate Republicans to form a majority. The party responded by backing John Liu, the former city Comptroller who lost his mayoral bid last year.
Incumbent Adriano Espaillat Fights for His Seat in the 31st District
It's Adriano Espaillat vs. Charlie Rangel round three — sort of — in Upper Manhattan. The state senator, who narrowly lost to the 23-term congressman two times, is now fighting to keep his job. He's being challenged by former City Council Member Robert Jackson, a Rangel ally, who is attacking him for missing 60 percent of the votes in the last legislative session. Gotham Gazette notes that he missed the majority of those votes while he was campaigning in the two weeks prior to the June congressional primary.
Indicted State Senators Ask for a Second Chance
For evidence of the corruption in Albany, just take a look at your ballot. Several spots are only open as a result of career-ending scandals, and three state senators are fighting for reelection despite being indicted. Former City Councilman Leroy Comrie and lawyer Munir Avery are campaigning for the 14th District Senate seat in Queens, against incumbent Malcolm Smith, who allegedly tried to rig last year's mayoral election. Following a mistrial, Smith is facing a retrial on federal corruption charges in January.
In Brooklyn's 19th District, incumbent John Sampson, who is facing federal charges for allegedly stealing $400,000 from a housing fund, is being challenged by Dell Smitherman.
They're joined by the state's No. 2 Republican, Tom Libous, who represents the Binghamton area and has been charged with making false statements to the FBI while they were investigating allegations that he got a job for his son by promising that he would steer business to the law firm that hired him. Businessman Denver Jones is running against him.
If Smith, Sampson, and Libous are elected, they may not be in office for long. They are facing 45, 20, and 5 years in prison, respectively.