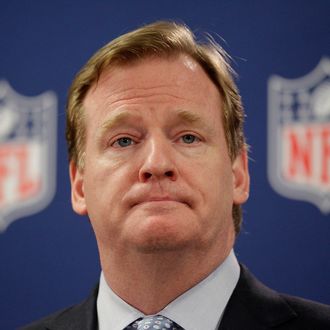 NFL Commissioner Roger Goodell.
Photo: David Goldman/AP/Corbis
Following a summer of outrage about crime and punishment in the NFL, the league may be adjusting its drug policy to allow slightly higher levels of THC in a player's system. Currently, football has some of the harshest marijuana policies in all of sports, with just 15 nanograms of THC per milliliter of blood counting as a violation. (The Olympic standard is ten times that amount, while baseball uses the federal government's standard of 50 nanograms.) Under a new deal being finalized with the players union, positive tests will start at 35 nanograms.
If the changes are approved, the league would also begin testing for Human Growth Hormone and reclassify off-season amphetamine use as a substance-abuse violation instead of a performance-enhancing one.
The current NFL drug policy is a tiered testing system in which players are tested once a year. If one tests positive, he is retested within 90 days (and placed in drug treatment), while a second positive result subjects him to much more frequent testing that may end in long-term suspensions.
But as Vox's Joseph Stromberg puts it, NFL players have plenty of reasons to use marijuana for perfectly legitimate medical reasons. Stromberg argues that in many instances, pot would be a safer alternative to the strong prescription painkillers many players use — especially before driving. "Prescription painkiller overdoses cause more than 15,000 deaths per year in the US, while marijuana causes none, and there's evidence that permitting medical marijuana can reduce painkiller overdoses overall," he writes.
And that's not to mention the very relevant domestic-violence disparity:
Commissioner Roger Goodell has shown a consistent lack of interest in dealing with domestic violence committed by players, delaying suspensions for as long as possible and only acting when forced to by video evidence and public outcry.

Drugs — including marijuana — are treated differently. Positive tests automatically trigger immediate suspensions. Players are presumed guilty unless proven innocent in an appeal.

And, despite the slightly higher threshold, five positive tests for marijuana still lead to a penalty that's twice as big as Ray Rice's initial suspension for assaulting his wife. Under the NFL's new, somewhat stricter policy on domestic violence, assaulting a woman means a six-game suspension — and testing positive for marijuana five times means four games suspended.
Under the new, broadened policy, however, players living in Washington, Colorado, or anywhere else that allows medical or recreational marijuana use will still be barred form using it to treat their sport-induced conditions.