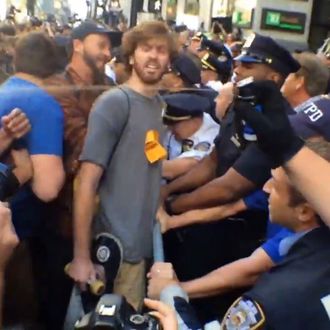 A mass sit-in related to Sunday's People's Climate March is currently happening in the Financial District, where over a thousand people have gathered to "stop capitalism" and "end the climate crisis."
The beginning of the #FloodWallStreet protest appeared pretty peaceful, but as the NYPD attempted to barricade the crowds (and press) and protesters ignored an order to disperse, tensions mounted.
According to Newsweek's Zoe Schlanger, cops have made a handful of arrests.
But reports indicate that on the whole the NYPD seems wary of arresting protestors.
Protestors are gathered around the intersection of Wall Street and Broadway, where earlier this afternoon they took a quick break to eat some pizza.
Around 4 p.m., the NYPD began breaking out the pepper spray. An unnamed photojournalist was reportedly pepper sprayed.
As of 4:15 p.m., protestors were still gathered downtown, and the NYPD has barricaded Broadway. Some protestors were tossing blue chalk dust into the air.
Despite the showdown, there has been some levity — like the return of Hipster Cop!