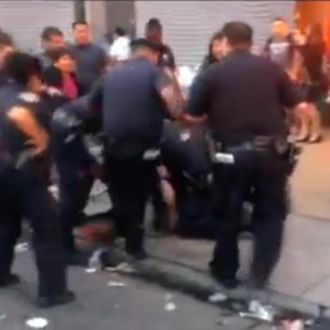 The Fifth Avenue Festival in Sunset Park got entirely out of hand over the weekend when police attempted to end the fair and clear the street. Things were running about 30 minutes late, and the NYPD was not pleased. An argument with vendors erupted — all of it caught on video, because it's 2014 and no one trusts the cops — and a man being subdued on the ground received a swift kick to the back from an officer with nothing better to do. No one from the department is even bothering to defend him.
The kick can be seen around the 2:24 mark:
"I was very concerned with a video that was taken and the actions of one of our officers who was seen kicking an individual," said NYPD Commissioner Bill Bratton on Wednesday. "As best I could tell looking at that video, it seemed to be totally unprovoked. That officer has been suspended, and in terms of suspension in this department, that means he's been relieved of his gun, his badge, and his police duties." Internal affairs is investigating.
For good measure, local politicians voiced their dismay directly to the department. "We find the physical aggression that is depicted in witness videos disturbing," wrote Representative Nydia Velazquez and City Councilman Carlos Menchaca in a letter to Bratton. "We are [a] community of immigrants that has historically felt isolated from the police. We are a community that has feared the use of excessive force by the NYPD. And sadly, the presence of police in our community does not consistently make our residents feel safer."