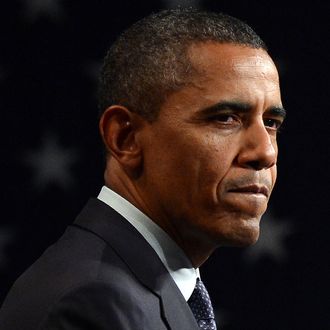 Photo: Jewel Samad/AFP/Getty Images
Back in June, President Obama announced that he had finally lost patience with the House Republicans blocking immigration reform. "I'm beginning a new effort to fix as much of our immigration system as I can on my own, without Congress," he said, daring Congress "to pass a darn bill." With Congress still not moving on the issue, Obama was expected to follow through on his threat to take executive action by the end of the summer. But earlier this week, the White House started hinting that the president would put off his overhaul of immigration until after the midterm elections, lest the controversial move cause problems for Democrats currently running for election. On Saturday, an unnamed official confirmed the new plan.
From the New York Times:
"Because of the Republicans' extreme politicization of this issue, the president believes it would be harmful to the policy itself and to the long-term prospects for comprehensive immigration reform to announce administrative action before the elections," a White House official said. "Because he wants to do this in a way that's sustainable, the president will take action on immigration before the end of the year."
Unsurprisingly, Republicans responded to the announcement by once again suggesting that Obama thinks that he is the King of America, instead of a mere president. "The founders of our country did not want a king, and the American people do not want a president who acts like one," huffed Tennessee Senator Lamar Alexander. And John Boehner said that while "there is a never a right time for the president to declare amnesty, the decision to simply delay this deeply controversial and possibly unconstitutional unilateral action until after the election — instead of abandoning the idea altogether — smacks of raw politics." 
Immigration advocates weren't thrilled either. In the wake of the news, various groups issued statements calling Obama's move "a broken promise," "a slap in the face," and a "shameful betrayal" that leaves "countless families to continue to wait in the shadows of fear," among other things. Obama will likely discuss all this a bit on Sunday, when he appears on Chuck Todd's first-ever Meet the Press broadcast.