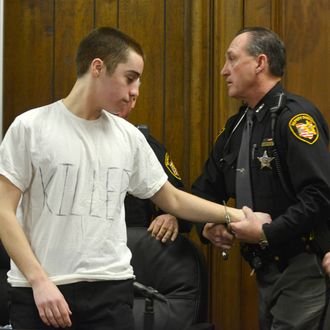 Photo: ? POOL/Reuters/Corbis
T.J. Lane, who opened fire in a high-school cafeteria in 2012, killing three students, has escaped from an Ohio prison along with three other inmates. According to the Associated Press, one of the men was captured, but 19-year-old Lane and Clifford Opperud, a 45-year-old convicted of aggravated robbery, burglary, and kidnapping, are still at large. Police have offered no details on how the men broke out around 7:40 p.m. on Thursday, but residents of Lima, Ohio, have been warned not to open their doors to strangers or pick up hitchhikers, as the two escapees are considered dangerous.
A large search is currently under way in woods and a residential area near the prison. "All available troopers from the Ohio State Highway Patrol have been joined by Allen County Sheriff's deputies and local area law enforcement in establishing a perimeter and searching the area," Ohio Department of Public Safety director John Born said. "A Patrol helicopter with advanced infrared detection equipment has been deployed and is engaged in the search as well.
In February 2012, Lane took a .22-caliber pistol and a knife to Ohio's Chardon High School, then opened fire in the cafeteria while he was waiting to take the bus to an alternative high school. He killed Daniel Parmertor and Demetrius Hewlin, both 16, and Russell King Jr., 17, who was dating his ex-girlfriend. While Lane was found mentally fit to stand trial, he reportedly suffered from hallucinations, psychosis, and fantasies. Investigators said he confessed to the shooting, but his only explanation was, "It was something I chose to do."
Lane was given three life sentences and gained even more notoriety for his crude and shocking behavior in court. He unbuttoned his shirt to reveal a T-shirt with the word killer scrawled across the front, and when given the opportunity to address the victims' family members, he made a revolting comment and flipped them off.
On Thursday night, Dina Parmertor, the mother of Daniel Parmertor, told the Associated Press, "I'm disgusted that it happened. I'm extremely scared and panic stricken. I can't believe it."
Update: Lane was recaptured early on Friday morning. Around 2 a.m., Lima police tweeted, "We got him… One more to go," referring to Opperud.