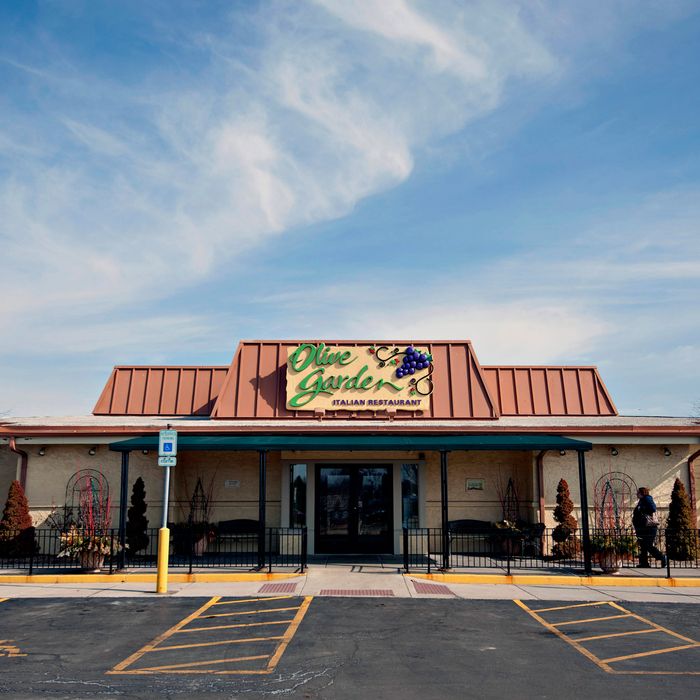 Photo: Daniel Acker/Bloomberg via Getty Images
For Olive Garden, 2014 has been almost as tough as its lasagna fritta.
Last week, an activist hedge fund that owns shares in Darden, OG's parent company, put out a scathing, 300-slide presentation arguing that the strip-mall purveyor of soft pasta and complimentary breadsticks is dreadfully mismanaged. The fund, Starboard Value, dinged its food quality, corporate strategy, and top executives — arguing that the firm could bring in more customers and make more money if it only tried a little harder. It was a public humiliation for a company that has struggled mightily of late, its sales sliding and its food mocked.
Alas, the mockery feels merited. Last night, a group of friends and I piled into a car to head to the closest branch to Washington, in a suburban strip mall in Virginia. Expectations were low. "Wanna see what waiters high on weed look like?" said one Yelp review of the branch in question. "Wanna see what '2300 mg of sodium per serving' chicken and shrimp carbonara with overcooked noodles tastes like?" Well, yes, and it tastes like salt.
But the visit left me convinced that Olive Garden's problems run far deeper than its kitchen or its boardroom. What OG and other sit-down chains offer is in essence escapist kitsch. Come, eat your $14 dinner, drink your nine-ounce pour of wine, enjoy unlimited breadsticks, feel safe. But in this economy, transmitting a feeling of security through a plate of salty, reasonably priced carbohydrates seems a task far beyond any restaurant chain, no matter how well run.
None of this is to dismiss Olive Garden's own problems, of course.
The place telegraphs a certain old-world charm, with black-and-white photographs bolted to the wall, Sinatra on the speakers, and the lights dimmed to a glow. The booths are deep. The plates and cups are heavy. In our case, the service was unfailingly attentive. You get the idea. Olive Garden wants you to feel a little pampered by the experience.
But it nevertheless feels tired, the kitsch never quite convincing. Then there is the food, which ranges from the decent if bland to the openly terrible. (There is a lot of it, though.) Fried lasagna — a riff on fried ravioli, I guess? — is off-puttingly chewy and comes in a floury smudge of Alfredo sauce. Then — sigh — the infamous pasta. The chain does not salt its cooking water, according to the hedge fund, and as house policy simmers its noodles into a submissive mush. "I think it is Alfredo sauce with sugar in it," said one of my friends, picking at my ziti with sun-dried tomato sauce. We did not find any sun-dried tomatoes.
The hedge-fund report does a thorough job documenting the menu's many other sins. The chain serves too many breadsticks. It offers too many fried foods. Its asparagus is too long. It undersells its wine. And beyond that, the hedge fund complains about pervasive mismanagement at Darden, including "egregious governance practices" and excessive spending.  
But there's a deeper malaise afflicting Olive Garden and its many, many competitors — among them Chili's, Ruby Tuesday, Applebee's, TGI Fridays, Outback, Longhorn, Bennigans, Fazoli's, Tony Roma's. All plaintively appeal to a thriving middle class. But that means none are thriving themselves.
For one, these chains are facing fierce competition from cheaper fast-casual chains, like Panera and Chipotle. There is also the rapidly expanding better-burger category, including Five Guys and Shake Shack. In many cases, the food is just better at these joints — I'd take a Chipotle burrito bowl over a heavy plate of ravioli any day. Combine that with their just-lower price point and they feel like a far better deal, as evidenced by the consumers flocking to them. 
The younger upstarts also have, well, youth on their side. Their design feels fresher, their menus more innovative. In many cases, they are better located, too. Chains like OG tend to occupy space in malls and strip malls, having expanded in the 1990s suburban boom. But those malls are suffering and emptying. The concept feels tired. 
But the far bigger problem has to do with the middle class that OG and its competitors want to sell pasta, ribs, burgers, and burritos to. To really understand OG's flailing, it helps not just to read its activist investors' complaints, or Darden's own reports, but also to take a look at government data on the people OG is trying to reach.
Yesterday, the Census Bureau put out its annual report on American household incomes and poverty. Not much has changed over the past year, it found. Median income barely budged, meaning in real terms it is down about 8 percent since the recession hit. It has fallen about 9 percent from its 1999 peak, and equivalent to where it was in the late 1980s. In other words, the average family is earning less than it was in the late 1990s even though the economy has expanded about 30 percent since then. It is earning about as much as it was in the late 1980s even though the economy has expanded about 80 percent since then.
In a more immediate sense, middle-class households continue to struggle with high rates of unemployment, scant wage growth, and deep economic insecurity — even as consumer optimism increases and more and more Americans find work. Average families just do not have many more dollars to spend on restaurant meals, and when they spend them, they are going for those brighter, fresher, cheaper places.
But success for OG might mean no more than drawing away business from its competitors. For the sector to turn around — for chain restaurants to see more customer dollars, writ large — the poor need to get some security and middle class needs to turn around. And that prospect feels as distant as Italy does from the recesses one of OG's deep, deep booths.  
The hedge fund in question argues that there's lots of low-hanging fruit for OG to pick: tightening its menu, improving its offerings, and getting more guests in the door. That might be true, and it is worth noting that despite all its problems, OG remains a big and profitable chain that is deeply engaged in a turnaround effort, firing back with its own slide deck for investors this week. (It is also worth noting that the hedge fund seems interested in forcing Darden into a real-estate play to maximize shorter-term shareholder value, along with getting them to salt their pasta water.)