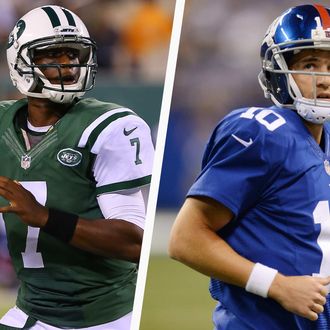 Geno Smith and Eli Manning.
Photo: Rich Graessle/Icon SMIChris Howell/AP
The Jets' begin their season this afternoon against the Raiders, with the Giants kicking off tomorrow night in Detroit. It could be a long season for both teams: Neither made the playoffs last year, and most predictions have them falling short again. Both teams could plausibly put up worse records this year.
But opening weekend is no time for a gloomy outlook; it's an opportunity (possibly the last one) to believe your team will be a contender. (Or, at least, you know, a wild-card hopeful.) Here, a totally optimistic — to the point of perhaps being misguided — squint-a-bit-and-maybe-they-don't-look-so-bad guide to New York's NFL teams.
JETS
Starting quarterback Geno Smith wasn't very good in his rookie season, but he is, if nothing else, no longer a rookie. He was more assertive during training camp last season, and if he continues to develop (making smarter decisions, getting more comfortable taking snaps under center), he could at least be a reliable game manager. If Smith falters or gets hurt, there's always the hope that Michael Vick, if given the chance to start, could stay healthy and turn in some games like he did in his first couple of seasons with Philadelphia.
As for the rest of the offense, Chris Johnson (who rushed for 2,000 five years ago) will be eager to prove he's not washed up. (He'll also be eager to earn the $1 million in incentives built into his contract.) Wide receiver Eric Decker, another new addition, is more likely to make a real contribution to the offense. Decker, the team's splashiest off-season signing, has 32 touchdowns over three seasons — though he had Peyton Manning throwing to him for two of those, and defenses had other Broncos weapons to worry about. 
On defense, there's no sugarcoating the fact that the Jets' secondary is a concern, but the front seven will be dominant, at least according to the front seven themselves. Rex Ryan, whose teams relied on a strong defense during his early success with the Jets, may very well be coaching for his job this season. One imagines he'll be desperate to win.
Best-case scenario: Smith takes a step or three forward in his development, the Jets' acquisitions pay off, and they sneak into the playoffs as a wild card.
GIANTS
Offensive coordinator Kevin Gilbride retired in the off-season, which means that quarterback Eli Manning will be running a new offense for the first time in his career. But considering the diminishing returns they'd been getting from the old one, that's a good thing. The new West Coast–style offense relies on shorter passes. Timing is everything in such a scheme, but if Manning masters it, it could could give him new life after a nightmarish campaign last year.
The Giants beefed up their secondary this off-season, with the signings of cornerbacks Dominique Rodgers-Cromartie and Walter Thurmond. If everyone (including Antrel Rolle, Prince Amukamara, and especially Stevie Brown) stays healthy, a solid secondary could help balance what may be an atypically shaky pass rush.
Speaking of injuries, the Giants should be a bit healthier this year, if only because, as Bill Barnwell pointed out at Grantland, it would be difficult to lose as many games to injury as they did last year. (We're going to skip over the whole David Wilson situation here, because opening weekend is a time for happy thoughts, and the running back's retirement at 23 is just too depressing.)
Also working in the Giants' favor: They have the sixth-easiest schedule in the NFL (based on their opponents'$2 2013 records) and the easiest one of any NFC team.
Best-case scenario: If new offensive coordinator Ben McAdoo breathes new life into the offense, they stay relatively healthy, and they take care of business against weaker opponents, the Giants, too, can compete for a wild-card berth.