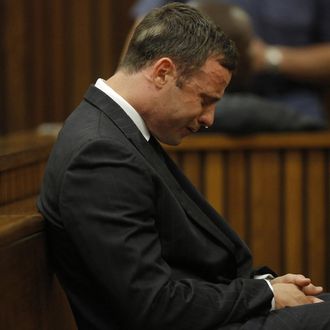 Photo: Kim Ludbrook/ - Pool/EPA/Gallo Image/Getty Images
Just a day after he was acquitted of murder charges in the shooting death of his girlfriend, Oscar Pistorius was found guilty of manslaughter in the same case. The charge is known as "culpable homicide" in South Africa.
Judge Thokozile Matilda Masipa found that Pistorius behaved negligently when he fired at his model girlfriend Reeva Steenkamp, but said that Pistorius's claims about believing there to be an intruder in his home "could reasonably be true." Nonetheless, the judge said he should have known that there could be a person in the bathroom when he fired, and that the athlete "acted too hastily," using "too much force." The prosecution, on the other hand, did not provide "strong circumstantial evidence" for murder. (Pistorius was also found guilty of an unrelated firearms charge.)
Culpable homicide carries a penalty of up to 15 years in prison. However, Pistorius may get off with a suspended sentence and a fine. The prosecution has said it will wait for the sentencing to decide whether it will appeal the verdict.
Updated, 3:30 p.m.: Reeva Steenkamp's spoke to NBC's Jeff Rosenabout the verdict. "This verdict is not justice for Reeva," June Steenkamp told Rosen. "I just want the truth."