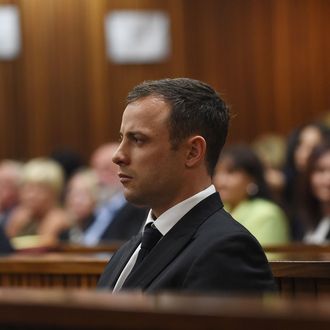 Photo: Phill Magakoe - Pool/Independent Newspapers/Gallo Images/Getty Image
A South African judge found Olympic sprint runner Oscar Pistorius not guilty of the premeditated murder of his girlfriend, Reeva Steenkamp, though an official verdict still has yet to be issued, reports CNN.
In a statement read to the court on Thursday, Judge Thokozile Masipa ruled out premeditated murder and second-degree murder charges based on the state's lack of evidence. Instead, she said, there is reason to believe Pistorius thought his model girlfriend was still in the bedroom when he fired four shots into the bathroom at what his defense says he believes was an intruder. Steenkamp died of gunshot wounds on Valentine's Day, 2013. 
Though under South African law Pistorius now cannot be found guilty of murder, the judge did not rule out the possibility of ruling the incident a "culpable homicide." Pistorius also faces lesser charges for "discharge of a firearm in a public place and one charge of illegal possession of ammunition," according to USA Today.