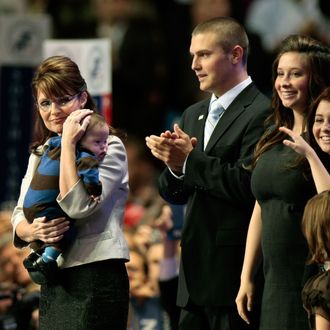 Photo: Win McNamee/Getty Images
Last week, Alaskan news outlets reported that several members of the Palin family — Sarah, Todd, Bristol, and Track — had gotten into a full-on drunken brawl with some non-Palins at an Anchorage house party. The Palins do not dispute that this happened (they can't, really since there were dozens of witnesses). However, it seems they do want to clear up a few details of the story — you know, for honor, or something. 
A "source close to the Palin family" got in touch with Real Clear Politics to share their version of events. While most reports say that the altercation started when 25-year-old Track "confronted" the ex-boyfriend of his 20-year-old sister, Willow, the Palin mouthpiece claims the fighting began when the young man engaged in some "questionable behavior" and "tried to get in" to the Hummer limo the family was balling out in that night. Here's more from RCP's source: 
Track Palin soon found himself struggling to fend off four men who had "piled on him," according to the source. 

Todd Palin then inserted himself into the brawl, which left the former "First Dude" of Alaska bleeding.

According to the source, as her husband and son were trading blows with their adversaries, Palin was yelling (in reference to her son), "Don't you know who he is? He's a vet!" 

This rendition of her words differs slightly but significantly from a previous report, which had Palin shouting, "Don't you know who I am?" 
"From my understanding, she was in full 'mama grizzly' mode defending the kids," the source continued. Got it? Oh, and one other thing: Though a witness who spoke to blogger Amanda Coyne said that Bristol repeatedly made use of her "mean right hook," the Palins would like for the world to know that their eldest daughter is, in fact, left-handed. So, Bristol pounded someone with her left hand, not her right one. Remember that the next time you consider messing with Mama Grizzly's cubs. Also, remember that Sarah Palin was once very close to becoming vice-president of the United States.