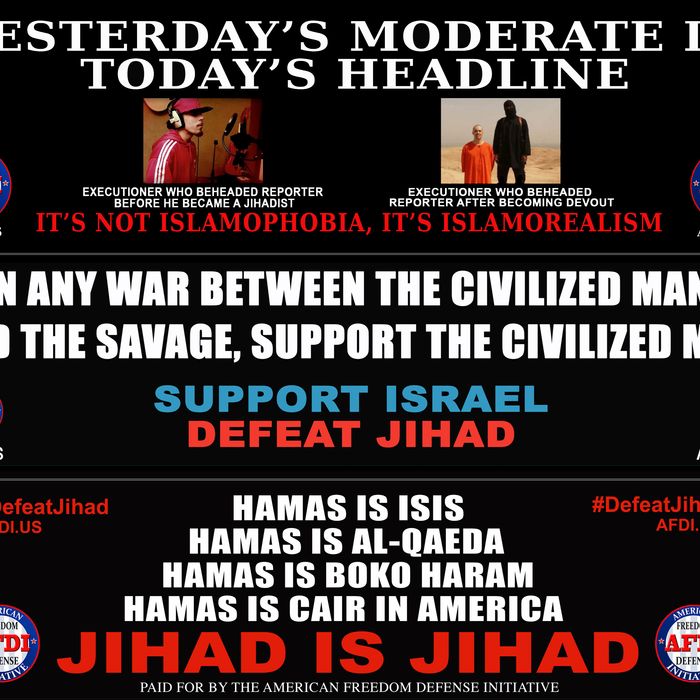 Notorious Islamophobe Pamela Geller's latest inflammatory ad campaign launched Monday, but one of the proposed advertisements was conspicuously missing from the batch. In response to a request from the family of slain journalist Jim Foley, Geller pulled the image of Foley just before he was beheaded by an ISIS militant.
The controversial ad read, "Yesterday's moderate is today's headline," and featured a photo of Abdel-Majed Abdel Bary, a British national and ex-rapper currently fighting in Syria, next to Foley and his executioner. Abdel Bary was at one point believed to be the masked militant who killed Foley and two other westerners, but the FBI recently suggested that he is not the culprit after all. After a letter from Foley's family, Geller replaced the second image with one of Abdel Bary holding a different head.
"We have revised the 'moderate' ad with Abdul Bary (Foley's alleged  executioner) with someone else's severed head," Geller wrote on her blog. "It didn't take but a minute to find scores of photos that would fit the ad. The ease of modification speaks to the magnitude of the problem."
That was just one of several posters in Geller's new campaign — the one that attracted the most outrage. Many elected officials, including New York City Mayor Bill de Blasio, condemned the ad. (Was she really not expecting an outcry from the Foley family? It certainly resulted in more attention.)
Other versions, which are running on 100 city buses and on urban panels, touch on "Islamic Jew-Hatred" and various Islamic and Islamist organizations. Another ad, about "killing Jews," was rejected by the city, and Geller is currently suing the MTA.
Geller, for her part, insists that she doesn't hate all Muslims and thinks the media is out to get her. "Jihadists are beheading journalists and journalists are out for my head," she wrote.