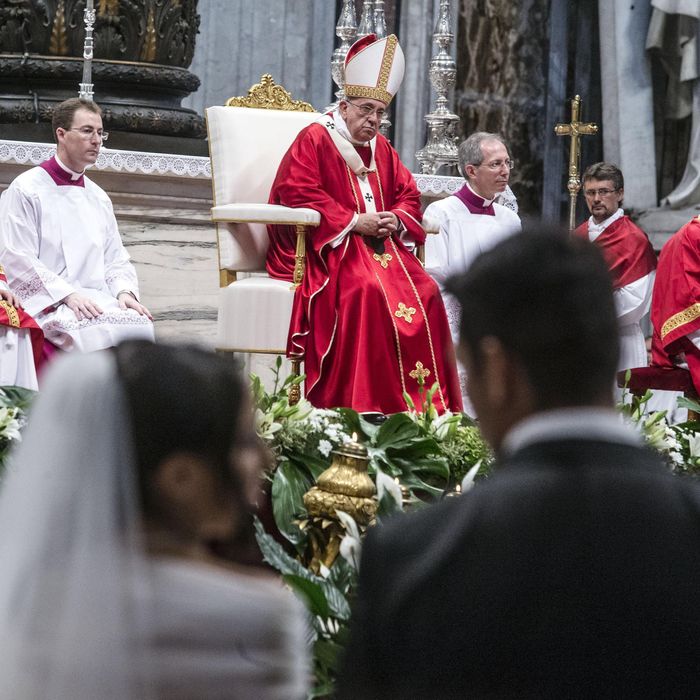 Photo: Angleo Carconi/ANSA/Corbis
Twenty lucky couples had none other than Pope Francis as their wedding officiant at St. Peter's Basilica on Sunday, in the first papal wedding ceremony in 14 years. But what made the ceremony even more notable is that some of the couples violated strict Catholic teachings on sex and family life.
The world's most hip pontiff reportedly sought out "modern couples" from the Rome area for the ceremony. At least one of the participants had a grown child from a previous nonmarital relationship, in violation of church teaching. Other couples lived together (and maybe even boned) before marriage. 
One couple with children said the possibility of the Pope officiating their wedding seemed like "such an impossible thing."
And then, the celibate-in-chief lectured the newlyweds on the struggles of marriage. "The path is not always a smooth one, free of disagreements, otherwise it would not be human," he said. "It is a demanding journey, at times difficult, and at times turbulent, but such is life."
Though some have argued that Francis is not as doctrinally liberal as he appears, the Pope's actions have displayed an interest in adapting the church to modern realities. Previously, the Pope offered to baptize the child of an unwed mother if she couldn't find a local priest to do so, and baptized the child of an unwed couple during a ceremony at the Sistine Chapel. 
At this rate, the Pope might even give Andrew Cuomo communion.