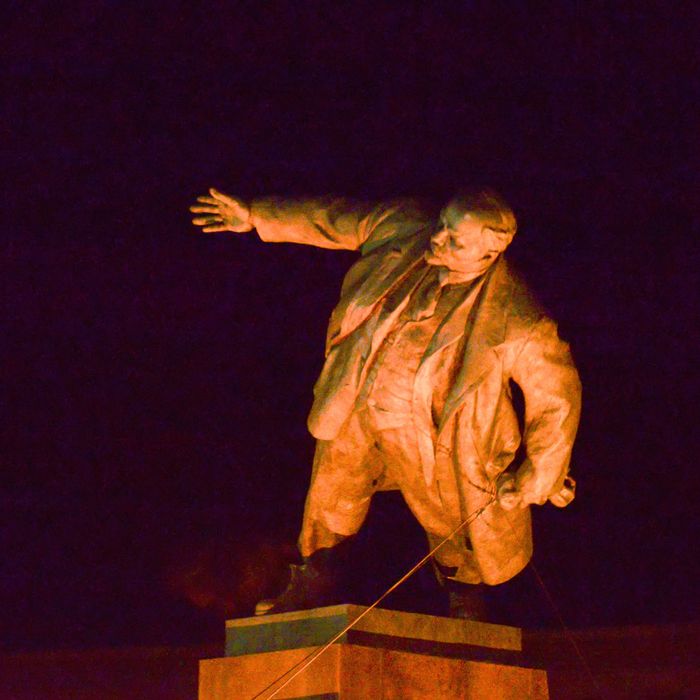 Photo: Sergey Bobok/AFP/Getty Images
A crowd of Ukrainian nationalists destroyed the country's tallest Lenin statue on Sunday in Kharkiv. The city sits along Ukraine's border with Russia, northwest of Donetsk and Luhansk, the centers of pro-Russian rebel activity.
The first leader of the Soviet Union stood at 66 feet including the base, its color scheme reminiscent of Lenin's Tomb in the middle of Moscow's Red Square. Protesters sawed through Lenin's legs before hordes of them pulled him off the base using cables in a move supported by local politicians. He fell face-first:
Destroying links to Ukraine's Soviet past has been a major part of the nationalist movement. In another notable destruction, Kiev's own similar monument was toppled back in December. More than 100 others have fallen since.
It's particularly notable, though, because this happened in Kharkiv — Ukraine's second-largest city, and the largest in the east, where the public was initially reluctant to destroy the landmark. The presence of Ukrainian nationalist flags and activity further underscores the complex underpinnings of the current conflict, which can't simply be described as one between east and west.
In Donetsk and Luhansk, however, some fighting between Ukrainian forces and pro-Russian rebels continues, despite a two-week-old cease-fire. By some estimates, at least 12 people were killed Monday, despite assurances from Kiev that the contested regions would have more autonomy going forward.