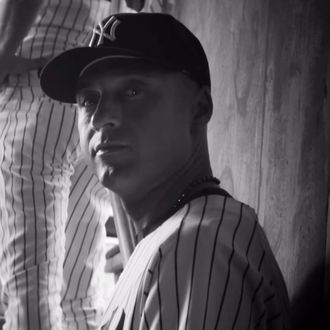 Derek Jeter's farewell tour has seen not one, but two 90-second commercials in which sponsors paid tribute to his career (and subsequently got loads of publicity when the clips went viral). But how do those ads, for Nike's Jordan brand and Gatorade, stack up against the many commercials Jeter's appeared in over the years? Here, a definitive ranking of ads in which Jeter's had a starring role, from worst to best.
Honorable Mention: Derek Jeter's Taco Hole
This SNL sketch isn't a real commercial, but whatever. Nutley, New Jersey's favorite fictional Mexican spot deserves a shout-out. (The video's not embeddable, but you can watch it here.)
25. Ford
Not only did this annoying commercial air constantly, but it's not even clear that Jeter actually drove an Edge in real life.
24. Fila
"Can you snag it out of the stands and grab a kiss from a fan?"
23. Propel Fitness Water
The message here: Drinking this water allows you to imagine famous men leering at you.
18 (tie). Ford
Man, Jeter has made some dull Ford commercials. Some of these don't even include reckless driving!
17. FX's Rescue Me
Jeter pays tribute to firefighters in an ad for a show he's never appeared on.
16. XM Satellite Radio
This is the 21st-century equivalent of the old Billy Martin/George Steinbrenner "Tastes Great/Less Filling" spot.
15. Gatorade
Jeter saves the city with his bat. What a hero.
14. Gillette
This ad came out a few months before Tiger Woods was exposed as a serial adulterer, which kind of ruined the "guys out on the town" vibe.
13. Gillette
Another, less creepy ad for razors, also co-starring Woods and Federer.
12. Gatorade
Peyton Manning, the king of goofy-athlete commercials, gets the best line here.
11. Fleet Bank
This time, Jeter's the big reveal at the end.
10. Major League Baseball
Jeter saying Jeter things and breaking the cliché-o-meter in the process.
9. Partnership for a Drug-Free America
This commercial is infinitely more entertaining if you imagine him speaking to A-Rod.
8. Nike's Jordan Brand
The remarkable thing about this ad is that Michael Jordan actually acknowledges his terrible baseball career.
7. Gatorade
In which Harvey Keitel uses the word schmendrick.
6. Gillette
Jeter does a fine job here, but hidden cameras in bathrooms are not okay.
5. SportsCenter
Jeter's comedic-acting chops aren't bad here!
4. Ford
Or here, either!
3. Nike's Jordan Brand
On the one hand, the reverent tone in this commercial (and the forced #RE2PECT hashtag) are a bit much. On the other hand, you probably got chills watching it anyway.
2. Gatorade
Of the two 90-second farewell commercials released this season, this one's far superior, thanks to the stirring Sinatra soundtrack and the genuine reactions of fans.
1. Visa
Jeter's been a full-time big-leaguer since 1996, and the closest he ever came to a real controversy was late owner George Steinbrenner's 2003 comments that Jeter stayed out too late and wasn't focused enough. They made up, of course, and this commercial was the perfect final word on the matter. (This follow-up ad was pretty great, too.)
This post has been updated with new videos.