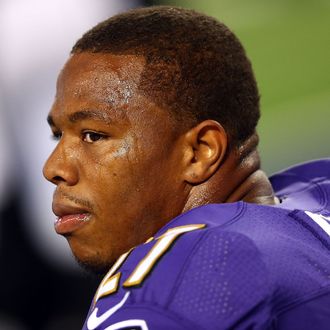 Photo: Ronald Martinez/Getty Images
On Saturday morning, Ray Rice made his first public appearance since being cut from the Baltimore Ravens. With his wife, Janay, and toddler daughter in tow, the 27-year-old stood on the sidelines of a suburban New York football field and cheered for the team of his alma mater, New Rochelle High School.
Though the knockout punch Rice delivered to Janay got him removed from New Rochelle's "wall of fame" earlier this week, his jersey still hangs in the school gym. "The jersey was retired in recognition of Mr. Rice's athletic accomplishments — accomplishments that have not changed," said principal Reggie Richardson. Meanwhile, New Rochelle football coach Lou DiRienzo demonstrated his support of Rice in his current state by personally inviting him to the game, the New York Post reports. Richardson is said to have objected to the invitation.
"Ray is a part of our family and a part of this program," said DiRienzo. "He made a terrible mistake but I know the character of the man and he will rise from this. The mistake he made will be erased by the good deeds he will continue to do and by the good deeds he's done." There are probably a lot of good lessons the students of New Rochelle can learn from Rice's story, but the idea that your community should automatically forgive you for rendering a woman unconscious isn't one of them.