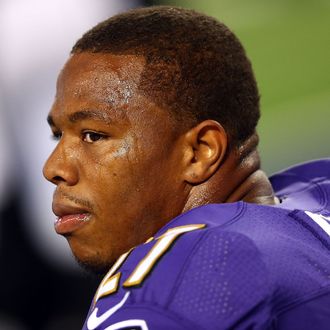 Photo: Ronald Martinez/Getty Images
A couple of weeks ago, the Baltimore Ravens announced that they were going to host a jersey exchange so that fans could exchange their Ray Rice jerseys after the running back was released from the team for domestic abuse. The exchange is today, and apparently a lot of people in Baltimore are way more interested in getting rid of their Ray Rice jersey than they are in getting a new iPhone 6.
According to SB Nation, this is what the Ray Rice jersey exchange line looks like at M&T Bank Stadium:
At least the weather's nice?