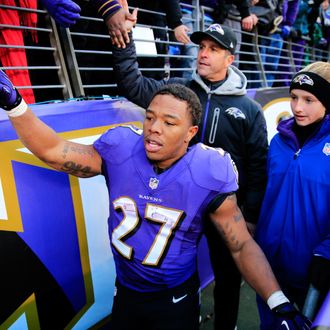 Photo: Rob Carr/2013 Getty Images
Nike is dropping its endorsement deal with Ray Rice, the Baltimore Ravens running back whose assault of his wife was caught on video, just a day after the team terminated its own contract with him. 
In addition to Nike, Rice had endorsement deals with M&T Bank, Carbiz Autos, and Baltimore Gas and Electric Co. M&T Bank recently tapped the Ravens' coach for its ad campaign rather than any of the players, but Carbiz stood by Rice when the allegations surfaced in February. We're betting they regret that decision now.
The Baltimore Ravens cut ties with Rice Monday, after a video of him assaulting his wife, Janay, surfaced. On Tuesday morning, Janay stood up for her husband in a statement posted to Instagram, berating the media for making them "relive a moment in our lives that we regret every day is a horrible thing."
After the video came to light, the Ravens deleted a tweet posted in May that placed part of the blame for the incident on Janay Rice. Because misogyny didn't happen if you can delete the Twitter evidence.
The Ravens are also offering fans the option of exchanging their newly depreciated Ray Rice jerseys for less controversial ones at team stores, while his alma mater, Rutgers, is cutting him from its home game promotional video. (Instead of taking a stand, the university merely said that "the video is only for current NFL players.")
The sudden disapproval has been tough on Rice. "I'm just holding strong for my wife and kid that's all I can do right now," he texted CNN's Rachel Nichols.