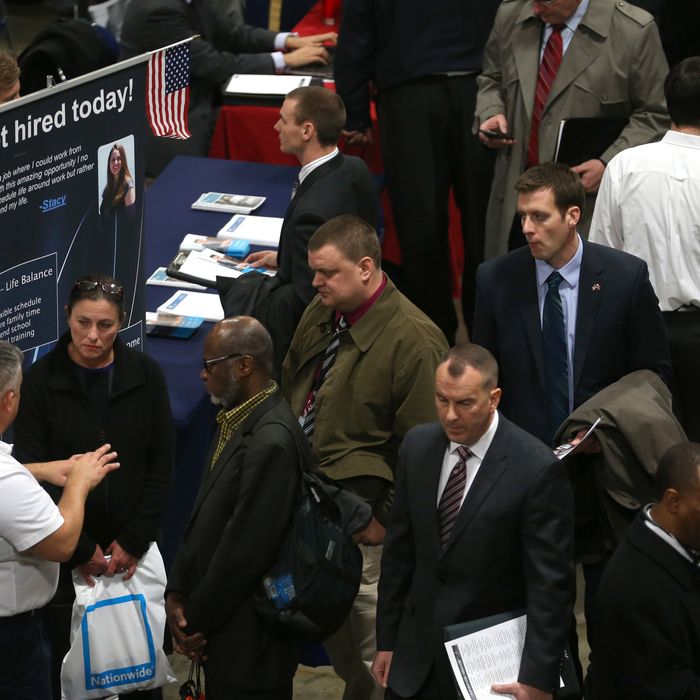 Photo: Mark Wilson/Getty Images
Today, the Labor Department said that the economy added 142,000 jobs last month and the unemployment rate fell a tick to 6.1 percent. It's a fine report, not great, not good, not bad. There's little evidence of the acceleration in the recovery that economists keep holding their breath for. But there's nothing to worry about either, especially given that these are provisional numbers that will get revised.
In short, the recovery is a B-minus.
That's actually a point that top Obama administration officials made — well, in a manner of speaking — to a group of assembled journalists earlier this week. By most labor-market measures, the economy is now about 80 percent recovered from the recession, putting it in Gentleman's C or low-B territory.
As of July, the unemployment rate had fallen 80 percent from its Great Recession peak toward its average level during the economic expansion that lasted from 2001 until 2007. Men have seen their unemployment rate fall 86 percent, and women 73 percent. White people have an 85 percent recovery, Asians 98 percent, Latinos 81 percent, and black people 77 percent. Including discouraged workers, the unemployment rate has fallen about 79 percent. For workers with less than a high-school degree, the jobless rate has dropped 78 percent, for college graduates, 77 percent.
Why haven't these rates dropped faster? In part because state and local governments shed jobs through the recovery, Betsey Stevenson and Jason Furman of the Council of Economic Advisers said. And in part because the recession was so deep to begin with. "This was the worst recession we had since World War II," said Furman. "I don't think it's surprising in some sense."
"The unemployment rate went up a lot faster and sharper than it came down, and we're still dealing with the aftereffects of that," he said, while noting that assessments of confidence had improved of late. "I think people are feeling that progress."
It is worth noting two places where the economy is not 80 percent recovered, though: corporate profits and wages. Companies have more than 100 percent recovered from the recession — an A-plus-plus! — with corporate profits slingshotting up and on pace to hit $1.8 trillion a year. But wages have stagnated in real terms. And median income — meaning what families are really living on — has continued to decline. No recovery there; a failing grade. 
As the unemployment rate continues to drop, then, economists have turned more and more to wages and earnings as an indicator of progress. "Employers just don't have to offer big wage increases to get and keep the workers they need, when hiring rates and net job creation remain far slower than what's needed to for a healthy labor market," said Elise Gould of the Economic Policy Institute, reacting to the jobs report. But some other indicators have looked up recently, meaning maybe the economy will get a better report card next month.