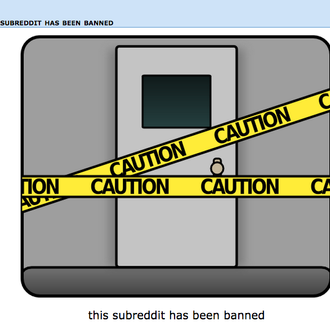 Almost a full week after nude photos of Jennifer Lawrence, Kate Upton, and a bunch of other female celebrities hit the internet, Reddit has gotten rid of the subreddit dedicated to sharing the images. In a self-serious statement titled "Every Man Is Responsible for His Own Soul," Reddit explained some of its reasons for banning of r/TheFappening, which takes its name from weird slang for masturbating. 
"In accordance with our legal obligations, we expeditiously removed content hosted on our servers as soon as we received DMCA requests from the lawful owners of that content, and in cases where the images were not hosted on our servers, we promptly directed them to the hosts of those services," wrote Reddit's administrators. "While current US law does not prohibit linking to stolen materials, we deplore the theft of these images and we do not condone their widespread distribution." The site was also probably worried about getting in trouble for distributing child pornography, since the cache of photos included images of an underage McKayla Maroney.
Here's more from the statement:
… reddit's platform is structurally based on the ability for people to distribute, promote, and highlight textual materials as well as links to images and other media. We understand the harm that misusing our site does to the victims of this theft, and we deeply sympathize.

Having said that, we are unlikely to make changes to our existing site content policies in response to this specific event.

The reason is because we consider ourselves not just a company running a website where one can post links and discuss them, but the government of a new type of community. The role and responsibility of a government differs from that of a private corporation, in that it exercises restraint in the usage of its powers.
"Virtuous behaviour is only virtuous if it is not arrived at by compulsion. This is a central idea of the community we are trying to create," the statement concluded. Unfortunately, we're sure Redditors will find a new place to stare at illegally obtained pictures of naked women — while raising money for charity! — soon enough.