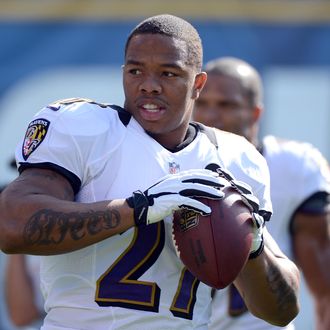 Photo: Donald Miralle/2012 Getty Images
The Ray Rice saga is poised to get even more awkward this week, as the Baltimore Ravens running back is expected to appeal his indefinite suspension on Monday, according to ProFootballTalk. The NFL Players Association received a letter from Commissioner Roger Goodell on Friday explaining that Rice's suspension was being increased from just two games because the video leaked by TMZ "shows a starkly different sequence of events" from what he told the league. Thus, the official reason for his indefinite suspension isn't committing domestic violence, but lying about it. The facts of the case were available in police reports, so as Deadspin explains, the NFL is claiming that it initially went easy on Rice because the league "ignored hard evidence in favor of a first-person account given by the person accused of committing domestic violence."
The NFLPA will handle the appeal, which much be filed by Tuesday. While the union probably isn't enthusiastic about defending a domestic abuser, it's expected to argue that allowing the punishment to stand would set a bad precedent, as Rice was punished twice for the same offense.
Complicating the league's stance that there were two separate offenses — the assault and the lying — is Ravens general manager Ozzie Newsome's public declaration that Rice gave an accurate description of what happened. "You know. Ray had given a story to [coach John Harbaugh] and I. And what we saw on the video was what Ray said. Ray didn't lie to me," Newsome said. "He didn't lie to me."
The appeal would usually be heard by Goodell, but since he'll serve as a witness ProFootballTalk predicts an outside arbitrator, such as former NFL Commissioner Paul Tagliabue, will be brought in. Rice lost $3.529 million in salary when his contract for this season was terminated, and the Baltimore Sun reports that he's also considering legal action.
Money isn't all that's at stake. Many disgraced players have been offered a second chance, and Jason La Canfora of CBS Sports reports that, "based on numerous conversations with people who will be directly involved in this process on all sides, I would fully expect Rice to end up reinstated prior to the start of the 2015 league year in March."