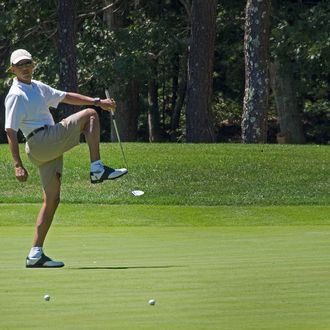 Did your Labor Day weekend not go as planned? Don't worry, President Obama's (reportedly) didn't either. It seems that after spending Friday, August 29 attending fund-raising events in New York and Rhode Island, Obama had hoped to sleep over in Westchester, where he was attending the wedding of White House chef Sam Kass and MSNBC's Alex Wagner on Saturday. The leader of the free world's pre-wedding plans included a round of golf, but NBC New York reports that the area's fanciest courses turned down his request for a tee time. With no suburban fun to be had in the morning, Obama flew to Washington on Friday night, and then flew back to New York for the second time in two days on Saturday afternoon.
According to NBC, the Trump National Golf Club, the Winged Foot, and Willow Ridge — where membership can run you around $100,000 — all decided that the president's presence would create too much inconvenience for their members on one of the busiest weekends of the year. (To be fair, accommodating Obama would probably have required them to temporarily close their courses to everyone else.)
While representatives for the clubs refused to comment on the record to NBC, the story comes via "several sources who were told about the president's advance team's calls to the club managers," which almost makes it seem like these establishments want the world to know that they turned down the president. A true sign of exclusivity, or something.