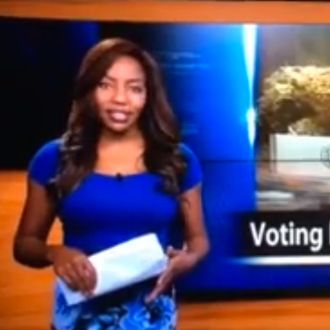 A local news segment on the Alaska Cannabis Club turned into an instant classic last night when KTVA-TV reporter Charlo Greene dropped the bomb that she actually happens to run the pro-legalization group. "Now, everything you've heard is why I, the actual owner of the Alaska Cannabis Club, will be dedicating all of my energy toward fighting for freedom and fairness, which begins with legalizing marijuana here in Alaska," said Greene on live television. "And as for this job, well, not that I have a choice, but fuck it, I quit."
It's the anchor's stunned reaction immediately after that really makes it:
Stoners may recognize the quitting move as the full Half Baked:
Greene later told the Alaska Dispatch News that she went with such a dramatic stunt "because I wanted to draw attention to this issue." Mission accomplished — here's her fund-raising page, which Reddit should flush with cash in no time.

As for the station, KTVA's news director wrote a brief note to viewers on Facebook: "We sincerely apologize for the inappropriate language used by a KTVA reporter during her live presentation on the air tonight. The employee has been terminated." But he can't fire her … because she quit.