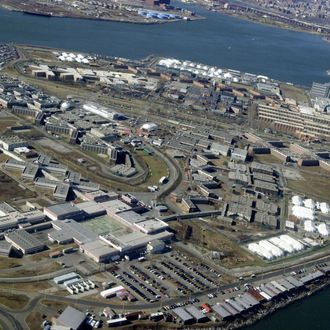 A.k.a. hell.
Photo: Todd Maisel/NY Daily News Archive/Getty Images
Last month, a federal investigation that found a "deep-seated culture of violence"  and "a pervasive climate of fear" surrounding adolescent inmates at Rikers Island — truly horrifying, revolting stuff — may not have even covered the full extent of it. According to a report in today's New York Times, a "confidential" internal report was scrubbed of "375 incidents that should have been logged as fights," and only a "sanitized" version was handed over to the local U.S. attorney's office for use in its civil rights probe.
The men who were blamed for the omissions in the original report — warden William Clemons and deputy warden Turhan Gumusdere — were not punished, but promoted. 
From the Times, which notes that in the span of three months, the number of fights reported dropped suddenly by 66 percent:
The auditors found insufficient evidence to prove that the staff had deliberately manipulated the data. But, they said, "No legitimate explanation exists for the dramatic and inaccurate decreases," and noted that the period in question, "directly corresponds" to when Mr. Clemons and Mr. Gumusdere oversaw the facility for adolescents.
Clemons and Gumusdere, who "now occupy some of the highest positions at the Correction Department," "abdicated responsibility for the facility's reporting of inmate fights and failed to supervise, manage, or oversee the facility's reporting of violence statistics, statistics that RNDC was obligated to report pursuant to department policy," according to the initial draft of the internal report, before their names were removed.
The 21 inmate fights that RNDC reported in June 2011, for example, was RNDC's lowest monthly total since the implementation of the indicator "inmate fight" in January 2008. If Warden Clemmons and Deputy Warden Gumusdere routinely reviewed video and/or source documents involving uses of force, serious injury to inmate incidents, and/or inmate fights and assaults, it defies logic to think that they could have concluded that the number of fights RNDC reported during these months was accurate …
Both men claimed they didn't really look at the data as it was being counted — Clemons "said he found the spreadsheets difficult to read on his computer and could not figure out how to print them." The full scope of the incompetence is on display here.
In response to the Times report, U.S. Attorney Preet Bharara said on Monday, "If, as has been reported, incomplete and inaccurate information has been provided to us, and questionable promotions may have occurred, it does not instill confidence in us that the City will quickly meet its constitutional obligations." In August, his office issued a scathing report, full of gruesome details, including recommendations about how the Department of Correction might go about addressing the chaos within.
"We are not, at this early stage, jumping to conclusions about the City's commitment to change, and our dialogue is ongoing," said Bharara in his statement. "However, now that the 49-day waiting period has elapsed and all options are available to us, we stand ready to take legal action to compel long-overdue reforms at Rikers, if that becomes necessary to get the job done."