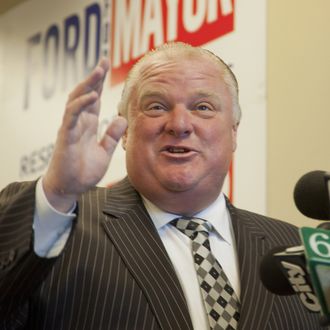 Photo: Keith Beaty/Getty Images
Embattled Toronto mayor Rob Ford has been diagnosed with liposarcoma, a rare cancer of fatty tissue that doctors describe as "difficult." Ford was hospitalized last week for abdominal pain, at which point doctors noticed a tumor and Ford formally withdrew from his reelection race. According to Zane Cohen, a doctor on his treatment team, they're dealing with a "fairly aggressive tumor" that has spread to his buttock from his abdomen.
The mayor will now undergo two rounds of chemotherapy, but doctors are "optimistic" about the prognosis. At a press conference on Wednesday, Ford's wife Renata said the family has "a lot of faith in the doctors and we have a lot of faith in God."
Despite his numerous drug- and alcohol-related scandals, Ford was only three points behind his opponent, according to polls ahead of the October 27 election. (Ford's big bro, Doug, quickly volunteered to replace him on the ballot.)
Ford, who was stripped of most of his power last year, will remain mayor-in-name-only until his presumably less embarrassing successor is sworn in on December 1.