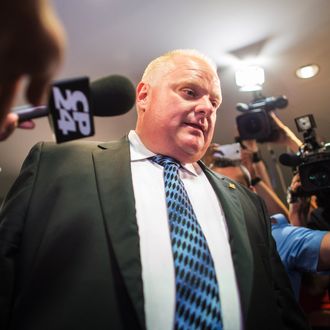 Photo: Geoff Robins/AFP/Getty Images
Rob Ford is officially dropping out of the race for mayor in Toronto, according to the Globe and Mail. The news comes two days after Ford was hospitalized for an abdominal tumor.
But don't fret! Ford's brother Doug is running in his place — that is, if he can get his paperwork all squared away first.
Michael Ford, Rob's nephew, has dropped out of the race for city council in Ward 2, and there are rumors Rob Ford may run for that position instead.
Update: Looks like it's official.