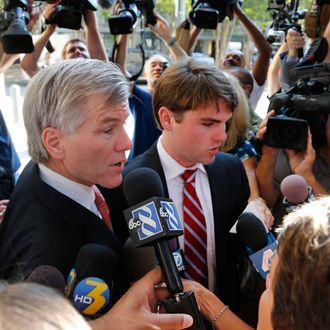 Too-handsome former Virginia governor Bob McDonnell, once a great white hope of the Republican party, was convicted in federal court today on 11 counts of corruption. His wife, Maureen McDonnell, collected another nine "guilty"s for a grand total of 20. Both reportedly cried in court, although Maureen's tears "were less obvious." 
That the couple goes down together is a direct rebuke of their entire defense, which centered on the idea that their marriage was too broken for the pair to have conspired together to take a long list of gifts, plus $120,000 in loans, from a local peddler of diet pills in exchange for proximity to their power. In the end, they aired a bunch of uncomfortably dirty laundry for nothing.
BuzzFeed's Katherine Miller wrote, empathetically, on the couple's demise:
This is so often how politicians fall — in scandals over four-digit and five-digit sums of money, even as their jobs give them control over sums many orders of magnitude larger. In this case, the sheer smallness of everything has become a distraction. For instance, there are enough photos of Bob McDonnell driving Jonnie Williams' Ferrari to make a flipbook-style GIF. There are photos of him posing with the Rolex. But run through the photos on your phone. Examine the contents of your heart: Would you really resist the photos? There's also the light-yourself-on-fire email from McDonnell to his wife. "You told me again yesterday that you would wreck my things and how bad I am. It hurt me to my core." But read through every email and text you've ever sent. Have you ever looked at your Facebook search history?

The McDonnells turned out to be people who wanted to drive three hours in a Ferrari. They were panicked and greedy in small, familiar, stupid ways.
Maureen, though, took most of the blame in court as the pair's lawyers argued that it was she who sought the attention of the businessman Jonnie Williams, because she was lonely and unstable. "Any time they went in a public setting, it was like a switch flipped and they turned it on," the McDonnells' eldest daughter testified, adding that her mom "had a mild obsession with Jonnie."
When lawyers pointed out that Bob and Maureen had taken 18 getaways together in less than two years, the former governor was forced to clarify, "Trips, not vacations." At one point, a prosecutor asked him, "Did your wife like people who had money?" It was all quite brutal.
For the trial, Bob moved out and lived with his priest, who, in another bizarre twist, had once pleaded guilty to a misdemeanor sex crime after being discovered in a parked car with another man. (McDonnell, in politics, was staunchly anti-gay.) Now he'll likely be headed to federal prison after a sentencing hearing in early January. So will Maureen. They face decades, "although their actual sentence could fall well short of that," the Washington Post reports. Though not physically, the McDonnells will be in there together.
It's like House of Cards without the cunning.