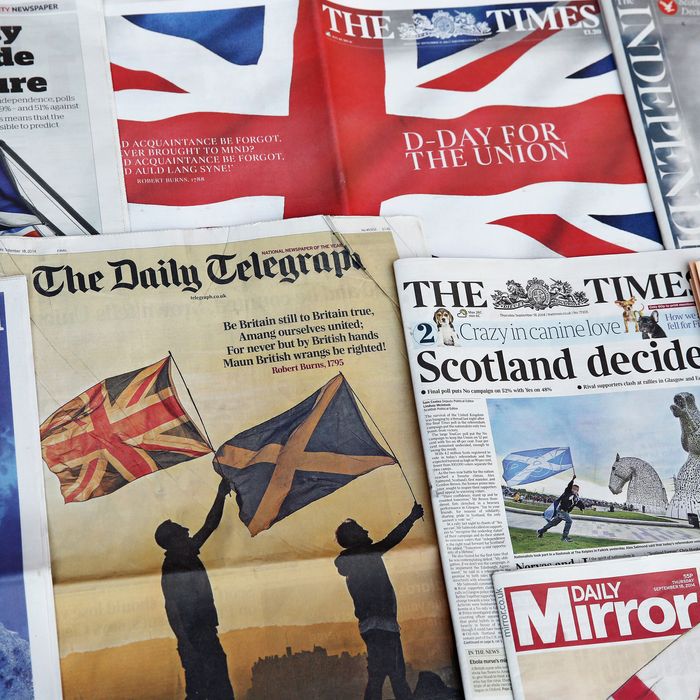 Photo: Dan Kitwood/Getty Images
"Should Scotland be an independent country?"
That's the deceptively simple yes or no question on the ballot today across the pond, where 97 percent of the Scottish electorate — 4,285,323 people exactly — has registered to vote on the independence referendum. Last-minute polls are tight, emotions are running high, lines to vote are long, and, of course, it's gray and rainy. Here's a look at the day so far.
Britons awoke to dramatic, patriotic, and pushy newspaper front pages (seen below via Newseum and Kiosko), most of which included flag imagery. If nothing else, it was a break from football WAGs in lingerie: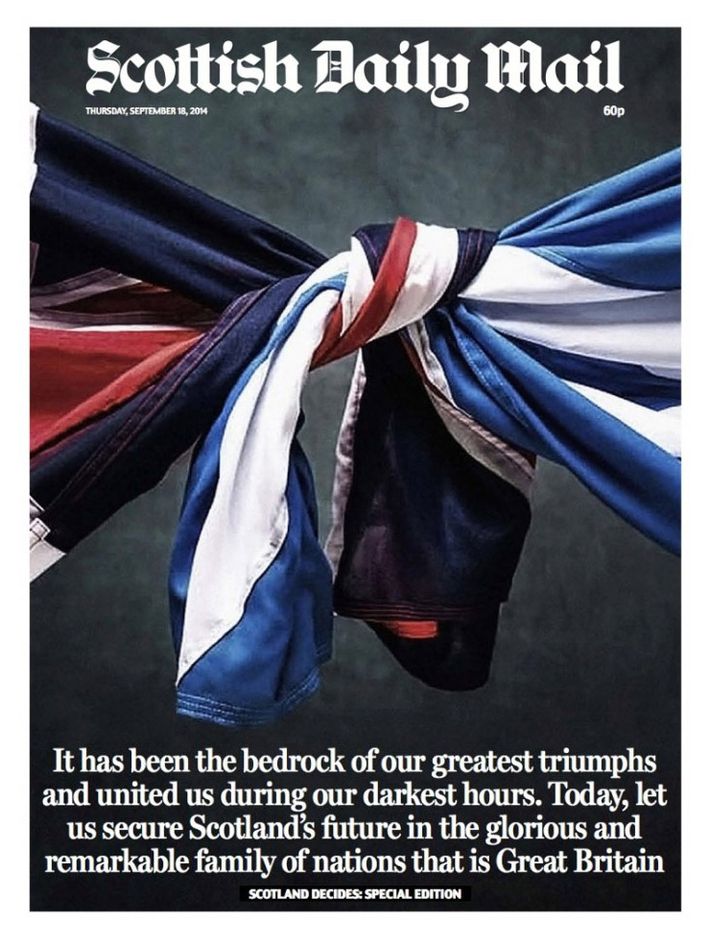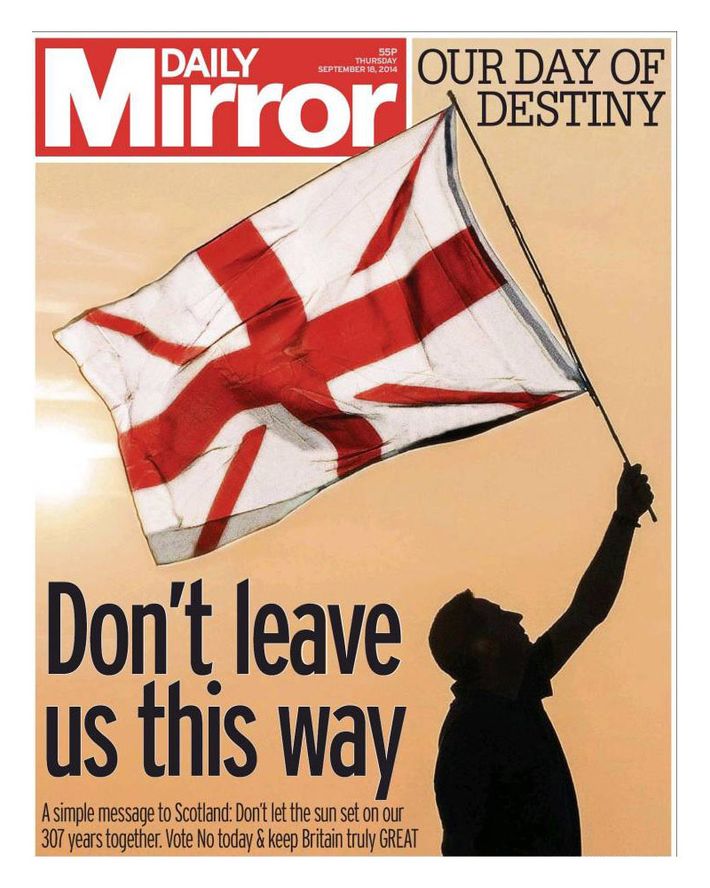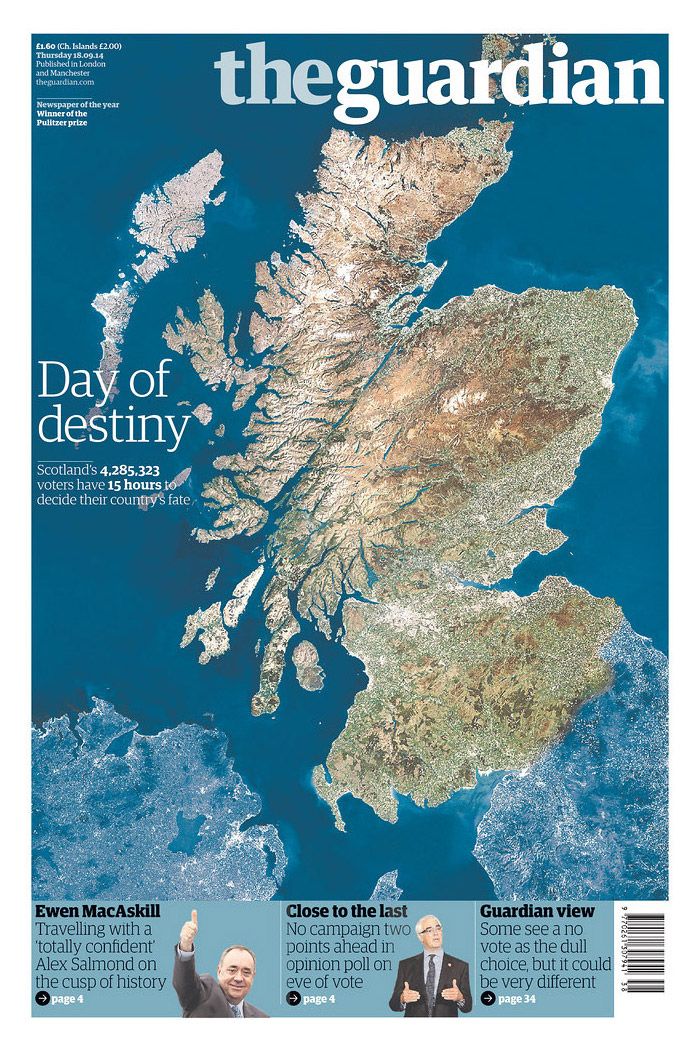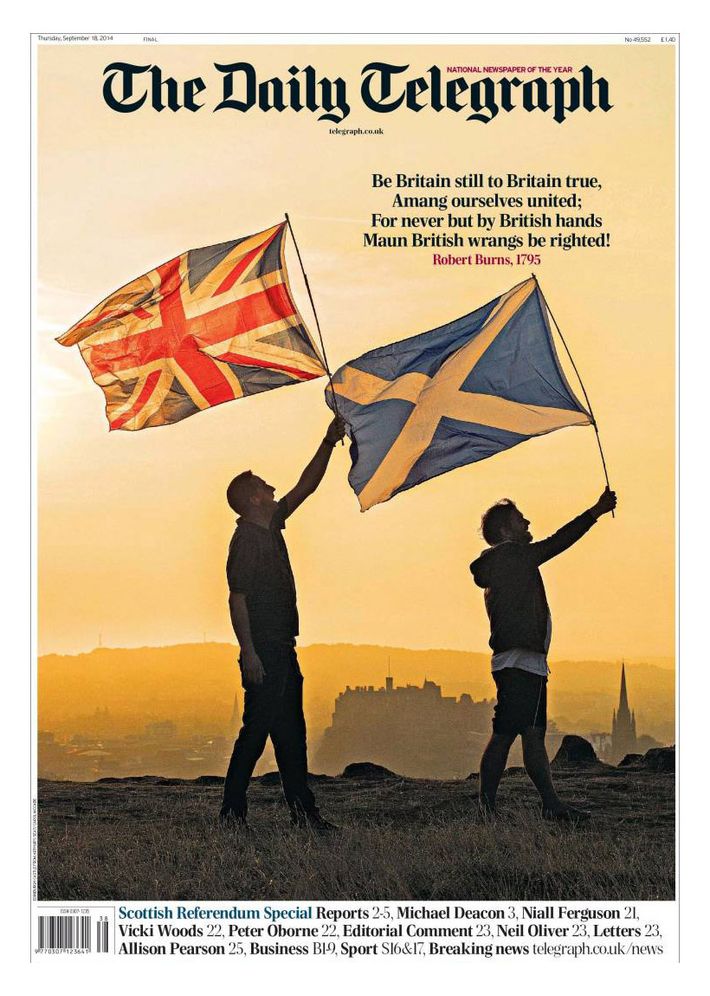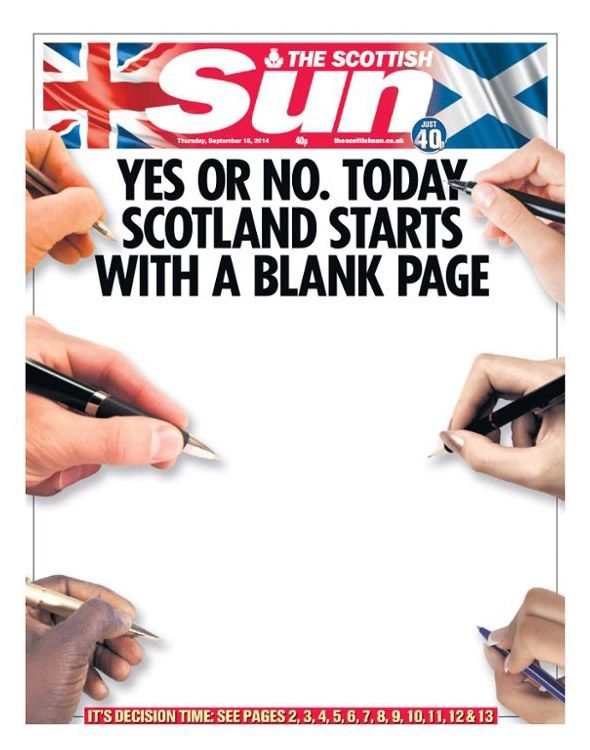 Tellingly, only the French went with kilts (and some skin):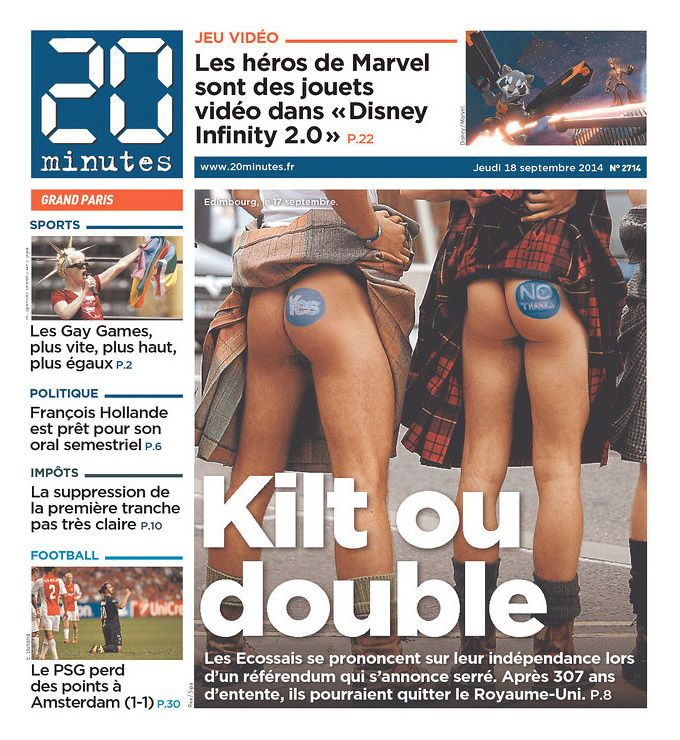 Ballots will be cast until 10 p.m. Scottish time (5 p.m. ET) with results expected by Friday morning. Until then, it's all live-blogs all the time, from The Guardian to the Daily Record to the Herald Scotland, which is plastered with "Vote Yes" banner ads on this "day of reckoning." (Although there's still space for other important local news like "Dr Who to be shown at a later time" and "Victoria Beckham named 'greatest style icon.'")
"Just like the American revolution?" the Guardian asks in a particularly clickable piece of referendum content. "Tax, debt, English arrogance, the oeuvre of Mel Gibson — the independence vote bears striking similarities to America's breaking away."
On the other hand…

It would be reckless not to allude to the basic ways in which the analogy between revolutionary America and contemporary Scotland breaks down.

They are voting on it instead of having a war

A significant distinction.
Things are much more staid at the BBC, which notes, "Strict rules mean the BBC — in common with other broadcasters — is not allowed to report details of campaigning until after the polls close."
So, on polling day specifically, the BBC (like other broadcasters, though they are covered by the Ofcom code rather than a charter) doesn't report on the campaigns or the issues which have been debated in them.

Coverage is limited to uncontroversial factual accounts of things like the logistics of voting, how the count will be done, or just the weather, so the BBC's output can't be seen as influencing the ballot while the polls are open.
In practice, that ends up sounding appropriately British, if not very informative: "It was a grey dawn in Edinburgh, the moisture clinging to the old buildings, seeping into the sandstone."
More exciting is the celebrity angle, which is the second most important story across most tabloids on this most important day. "Independence referendum: Vicious internet troll tells Andy Murray he wishes star 'had been killed at Dunblane' after tennis ace tweets support for Yes vote," reports the Daily Record.
While maybe the most world-famous Scot of the moment, Murray, it turns out, is not actually a resident of the country, and therefore cannot vote. If the unionists hold on, the yes votes will know whom to blame.