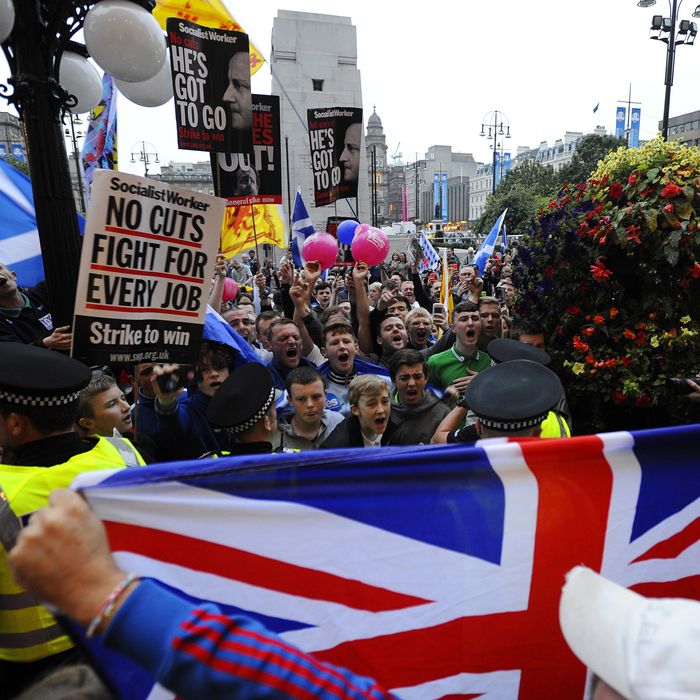 The two sides clash in George Square, Glasgow, Scotland, on September 18, 2014.
Photo: Andy Buchanan/AFP/Getty Images
With only half of the votes counted on Thursday night, it was already clear that the Scots wanted to keep the United Kingdom united. Early on Friday morning, the final numbers confirmed it: 55 percent of voters chose to remain part of Britain, with 45 percent voting for independence.
The results left some elated that Scotland won't be breaking up a union forged in 1707. Others are worried about what's ahead for the U.K.(as Vox explains, the Scottish Parliament was promised greater autonomy if it stayed in Britain, which creates challenges for the U.K.'s entire system of government). And though we know a thing or two about breaking up with Britain, many Americans were just confused. Here's a look at the early reactions.
In a speech early on Friday morning, Scotland's pro-independence First Minister Alex Salmond accepted defeat:
We know that there's going to be a majority for the "no" campaign. And it is important to say that our referendum was an agreed and consented process and Scotland has, by a majority, decided not at this stage to become an independent country. And I accept that verdict of the people. And I call on all of Scotland to follow suit in accepting the democratic verdict of the people of Scotland.
British Prime Minister David Cameron, whose career hung in the balance, celebrated the result. "The people of Scotland have spoken and it is a clear result," he said. "They've kept our country of four nations together, and like millions of other people, I am delighted."
Scotland's Finance Minister John Swinney said the nation has "changed forever":
We've had an enormous democratic debate, it has moved the country forward in a tremendous way, it has made Scotland a much more self confident country and, as a consequence, all of us who live in Scotland will have to work out where we go from here.
The Guardian's Martin Kettle described the disappointment of "yes" supporters:
For Scots, the no vote means relief for some, despair for others, both on the grand scale. For those who dreamed that a yes vote would take Scots on a journey to a land of milk, oil and honey, the mood this morning will be grim. Something that thousands of Scots wanted to be wonderful or merely just to witness has disappeared. The anticlimax will be cruel and crushing. For others, the majority, there will be thankfulness above all but uneasiness too. Thursday's vote exposed a Scotland divided down the middle and against itself. Healing that hurt will not be easy or quick. It's time to put away all flags.
Labour MP Jim Murphy, speaking to BBC Scotland, predicted that the vote will lead to an "awakening" in England as well:
Liverpool, Manchester, Cardiff… there's a real sense of disconnect between the village of Westminster and real people's lives across the whole of the United Kingdom. So I think there'll be, if you like, an English awakening of how can they do politics differently in England as well.
Harry Potter author J.K. Rowling, who threw her support behind the Better Together campaign and donated £1 million to the cause, shared a conciliatory tweet:
The Telegraph's Dan Hodges called the election hours before other media outlets, and said the result was obvious all along:
They won two and a half years ago when the referendum was first announced. Scotland, for reasons best known to itself, doesn't want to be an independent nation.

Throughout this campaign there has never been a single moment when the "Yes" campaign has been ahead. For all the madness of the past two weeks, the history books will show this – there was only one poll, one solitary, rogue poll, that showed the people of Scotland voting for independence.

But because of that poll, the constitutional settlement of the UK has been torn apart. Or it hasn't been torn apart. Scotland has been guaranteed "Home Rule". The rest of us have been told we are about the become members of a federal Britain. And why? Because half a dozen people told a pollster they might tick that tiny box marked "Yes". I wonder how many of them actually did?

The 2014 Scottish referendum campaign is over. Now the trouble begins.
While many in the media praised the Scottish people for remaining civilized during the vote, The Telegraph's Alan Cochrane said the process was actually extremely divisive:
…I make no apologies for my overall view that this was far from a beautiful campaign. My email and phone logs would testify to that – tales of the word "coward" being gouged on a doctor's door because she had a "No Thanks" poster in her window; a young office worker punched in the face because she said she was voting No.

Disgusting abuse continued right up to the very bitter end, with a Twitter attack on tennis champion Andy Murray's decision to support independence, calling him a "miserable anti-British hypocritical little git", and expressing the wish that he'd been killed in the Dunblane school massacre, which Murray survived as a child.

Taken together, the vitriol spewed by both sides adds up to nothing like the philosophical and moral debate that A L Kennedy and the other members of the blethering classes say they've witnessed.

…Both sides have no option but to accept the result of this referendum, but after the bitterness of the highly charged campaign, will there really be a collective desire to forgive and forget?
Turnout was at record levels across Scotland, and well over 90 percent in some regions. Some suggested that should serve as a lesson to the U.S.:
But mainly, Americans watching the BBC's coverage (which aired on C-SPAN) were just confused by the lack of hysteria and flashy graphics in British election night coverage: