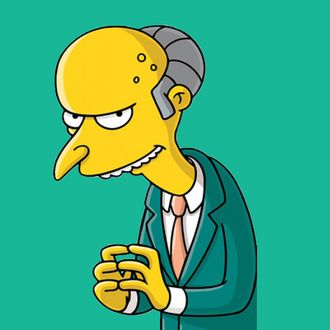 The Secret Service is considering measures to tighten security after two people attempted to enter the White House during a 24-hour period this weekend, and in the process, it has highlighted some interesting details about its current procedures — such as the fact that the president has the same security system as C. Montgomery Burns. On Friday night, Iraq War veteran Oscar Gonzalez managed to scale the White House fence, sprint across the lawn, and open the door to the north portico. According to the New York Times, officials want to know "why officers on the grounds did not deploy attack dogs that are specifically trained to stop intruders."
Officers at the White House are not supposed to open fire on trespassers who appear to be unarmed, so if someone runs across the lawn, they're supposed to be tackled by either a human or a canine. (Gonzalez appeared to be unarmed, but later a small knife was found in his pocket.) There are always "several muzzled Belgian Malinois on the White House grounds," as Bo and Sunny are completely useless when it comes to intruders.
The Secret Service also has yet to explain why it failed to follow an even less sophisticated security procedure: locking the door when the alarm went off.
Following the lawn incident and a 19-year-old New Jersey man's attempt to enter the property via car on Saturday, the Secret Service is looking into setting up security checkpoints with bag screenings a few blocks away from the White House. Banning people from the sidewalk in front of the fence is another possibility, so if you want to see the presidential hounds for yourself, you'd better act fast.