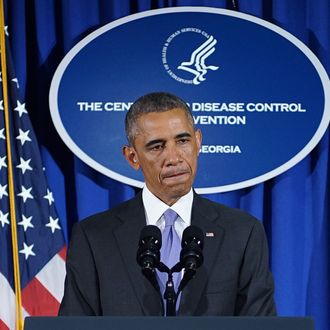 Photo: MANDEL NGAN/AFP/Getty Images
While the nation has been freaking out about a man with a knife running into the White House, there's been one silver lining for the Secret Service: At least nobody knew about the gun-toting man who stood next to the president just three days earlier. That changed Tuesday night, when the Washington Post reported that during the president's visit to CDC headquarters in Atlanta on September 16, the Secret Service failed to screen a security contractor with three prior convictions for assault and battery and let him ride in an elevator with President Obama.
Agents only became suspicious when the contractor, who was working for the CDC, "acted oddly" on the elevator and ignored their order to stop using a cell-phone camera to record the president. After Obama got off the elevator, a few agents stayed behind to question the contractor. When the man's supervisor learned what happened, he was fired on the spot — at which point he turned over the gun agents didn't know he was carrying.
The way the incident was handled doesn't inspire confidence, either. Sources said the Secret Service director, Julia Pierson, ordered an informal review of the incident rather than referring it to the unit set up to investigate protocol violations. It looks like she also accidentally admitted while testifying before Congress on Tuesday that the agency tried to hide the incident from the president. Pierson said she tells Obama "100 percent of the time" when his personal security has been compromised, but the fence-jumping incident is the only breach he's been briefed on this year.