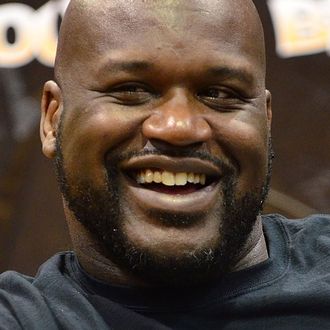 Photo: Lisa Lake/Getty Images
Shaquille O'Neal is a modern-day Renaissance man. Not only did he play NBA basketball for almost 20 years, he also starred in the Disney classic Kazaam, became a trained mixed martial arts fighter, developed real estate in his home state of New Jersey, became an early Twitter adopter, starred in countless basketball-related video games, and currently hosts a TruTV show called Upload With Shaquille O'Neal.
Now Shaq is prepared to enter his next phase of life: becoming a reserve police officer in Florida.
According to the Miami Herald, Shaq applied to become a reserve cop in Doral, Florida. If his application is accepted, he'll have to pass a series of physical and psychological tests before he can be instated. 
Apparently, this isn't even the first time Shaq has served as a cop; in 2005, he worked as a Miami Beach reserve police officer. What a mensch.