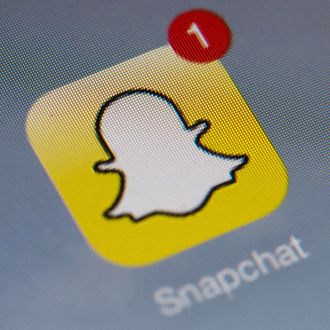 Photo: Lionel Bonaventure/AFP/Getty Images
According to a press release obtained by Business Insider, Snapchat has finally settled that pesky lawsuit filed by its ousted co-founder, Frank Reginald "Reggie" Brown. In the suit, Brown, an English major, claimed that he came up with the original idea for disappearing photos and brought it to Evan Spiegel and Bobby Murphy, who started building the app. But they eventually became estranged from Brown and ultimately ousted him from the company. Brown was seeking "an extraordinary amount in damages," according to Business Insider.
After a year and a half of fighting, the suit is over. The terms of the settlement are confidential, but the release does include an admission that Brown originally came up with the idea for Snapchat:
Reggie Brown originally came up with the idea of creating an application for sending disappearing picture messages while he was a student at Stanford University. He then collaborated with Spiegel and Murphy on the development of Snapchat during its early and most formative days.
Snapchat's Winklevoss can now ride off into the sunset on a motorcycle made of settlement money.