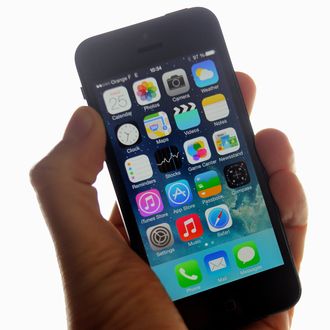 Just. One. More. Day.
Photo: Philippe Huguen/AFP/Getty Images
You've probably heard, from TV or the radio or one of approximately eight trillion live-blogs, that Apple is holding a big event today to announce new iPhones, along with an iWatch and probably some other stuff.
If you're in the market for a new iPhone, you've probably also been cautioned to wait before getting the iPhone 5C or 5S, since the iPhone 6 will (likely) be available in just a few days. But at least 14 people missed the memo. Here is a heartbreaking glimpse of what it looks like to be the last people on Earth who are excited about the iPhone 5.
Oh, man. The worst.
Just a reminder that not everyone is as obsessed with new Apple products as we are. (Also: If you're one of the 14, Apple has a two-week return policy on new iPhones.)