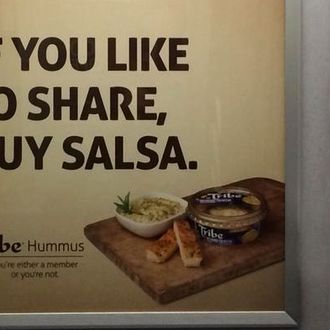 Photo: Howard Blas/Twitter
Back in July, as tensions boiled over in Gaza and Israel launched Operation Protective Edge, a fresh batch of hummus ads began appearing around New York City. Tribe, a distant second in the chickpea-dip game behind Sabra, which commands 63 percent of the market share to Tribe's 7 percent, was "hoping to narrow that gap with an advertising campaign," the New York Times reported. The Israeli-owned brand's new slogan across all media: "You're either a member or you're not."
"As an underdog, it's a pretty good thing to have a differentiating voice," said Ellis Verdi, president of DeVito/Verdi, the firm that created the ads, at the time. What went unacknowledged is what Verdi says now was an unintentional political subtext to the campaign, which launched amid a conflict that went on to kill more than 2,200 people — references to Israel and Judaism that members of the tribe may see as a knowing wink but anti-Israel activists have found troubling. Or maybe it's just hummus.
While Tribe's television spots went with "tribal" music, a nature-documentary theme, and lighthearted sex jokes, subway ads in Boston and New York City included a wide array of taglines from the inoffensive ("The caviar of hummus," "So good, it even makes your finger taste better") to the more potentially pointed, including, "If you want to share, buy salsa," "Your stomach should never settle," and "If you don't have enough for everyone, that's just too bad for everyone." Protest graffiti, as it often does, followed:
"It's nothing to do with anything but your stomach," says Verdi when I ask him about the ad copy now. "That's what it says."
He claims the posters are being taken out of context by those looking to be offended, or as a statement of solidarity where there isn't one — yet another example of the projection and sensitivities that inevitably crop up around every mention, subliminal or not, of the conflict. "Does it say that it's an Israeli company?" Verdi asks of the "member" slogan. "I think it's clever because it's including the name of the product. It's the hardest thing to do in advertising."
The relatively recent explosion in popularity of the Middle Eastern snack — the debate rages on whether hummus is Israeli or Arab — has resulted in a push for "post-cultural marketing" by brands like Sabra looking to take advantage of the growing American consumer base; Tribe, meanwhile, seems to be at least nodding to its heritage.
"I'm just trying to understand the political subtext," Verdi continues, maintaining that any connection to the Jewish state is accidental. "There's just so many uses of tribe — I've heard rappers use it. It's much more current parlance."
The counter-campaign sees a more nefarious influence. Osem Group, one of the largest food companies in Israel (Nestle owns a controlling stake), bought the Massachusetts-based Tribe Mediterranean Foods in 2008. Much like what's happened with SodaStream, the at-home seltzer-maker with a factory in the occupied West Bank, Osem's hummus has become a product of interest for the Boycott, Divestment and Sanctions movement, known as BDS. Anti-Israeli activists cite the company's stated roots ("the history of Osem is intertwined with the history of the modern State of Israel") and argue, "Osem is a key supporter and partner of the Jewish National Fund, an organization that controls 93 percent of the land within Israel and its illegal settlements." (They also encourage boycotting Sabra, which is partly Israeli-owned as well.)
In response to the Tribe campaign, which is set to run through mid-October, BDS activists have taken to appending "apartheid" stickers and putting up their own wheat-pasted bills around the city, which have themselves been torn down. (Of course.)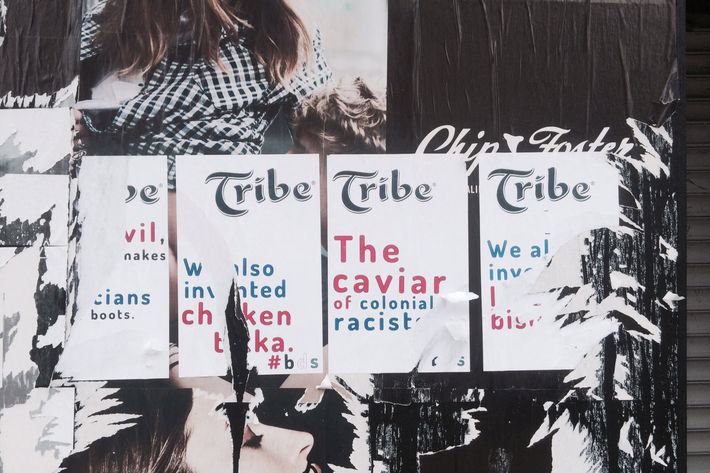 "There was no intention to have any political subtext," insists Verdi, who says the ads were conceived in March, and the timing in relation to this summer's conflict was purely coincidental. "This is not political advertising."
The company is less direct in its denials. "The thought process for the campaign happened nearly a year ago and with a media plan to match. The happenings around the world had no bearings on our media schedule," said Tribe in a statement.
Asked whether subsequent events caused them to reconsider, the company said through a spokesperson, "We respect consumer feedback about our products, both negative and positive, and encourage people to express their opinions. Our campaign has received an overwhelmingly positive response — and while we listen to all positive and negative comments, we don't necessarily feel a need to act on all of them."
"Our campaign has helped drive positive awareness of the Tribe brand and has helped bring new users into the hummus category."
Sabra, meanwhile, is sticking with celebrities.