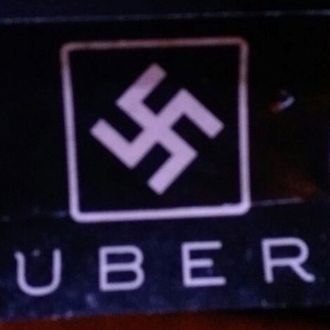 Photo: JPUpdates.com/DNA Info
With a name like Uber and strong-arm tactics like these, it was bound to happen eventually, Godwin's Law or not: The NYPD is investigating a possible bias incident after flyers were distributed in Brooklyn pairing the taxi-killing app with swastikas to unsettling effect. "Uber is not involved with this disgusting act of hatred and we call on the NYPD Hate Crimes Task Force to aggressively investigate this despicable crime," the start-up said in a statement.
While it's possible the handouts are are just a tone-deaf transportation protest, given the state of things, instead of an anti-Semitic gesture — even the Anti-Defamation League says the "swastika has morphed into a universal symbol of hate" — the misguided propagandist definitely should not have distributed the flyers in Hasidic Williamsburg.