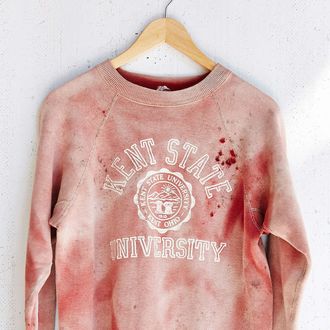 Urban Outfitters, the official clothing store of Outrage Twitter, reached a new low yesterday when shoppers noticed that the site was selling a "vintage" Kent State sweatshirt, complete with blood spatter. The Ohio university was the site of the 1970 Kent State shooting, when the Ohio National Guard killed four students during a peace protest.
Urban was selling the sweatshirt for the low, low price of $129 (after all, it's one of a kind). But after the sweatshirt hit BuzzFeed, someone quickly scooped it up. Now, of course, it's for sale on eBay. The starting bid is $550 — or, if you don't want to get into a bidding war with a fellow terrible person — you can buy it now for $2,500. According to the seller, it's "perfect for Halloween or whatever your deal is."
To be fair, 50 percent of the profits from the eBay auction will go to the Southern Poverty Law Center. The other 50 percent will presumably go toward buying the next obnoxious Urban Outfitters item to provoke internet outrage.
Update: Urban Outfitters has issued the following apology via their Twitter account.
Urban Outfitters sincerely apologizes for any offense our Vintage Kent State Sweatshirt may have caused. It was never our intention to allude to the tragic events that took place at Kent State in 1970 and we are extremely saddened that this item was perceived as such. The one-of-a-kind item was purchased as part of our sun-faded vintage collection. There is no blood on this shirt nor has this item been altered in any way. The red stains are discoloration from the original shade of the shirt and the holes are from natural wear and fray. Again, we deeply regret that this item was perceived negatively and we have removed it immediately from our website to avoid further upset.
"We deeply regret that the item was perceived negatively" is a great non-apology you might want to pocket for the next fight with your significant other.