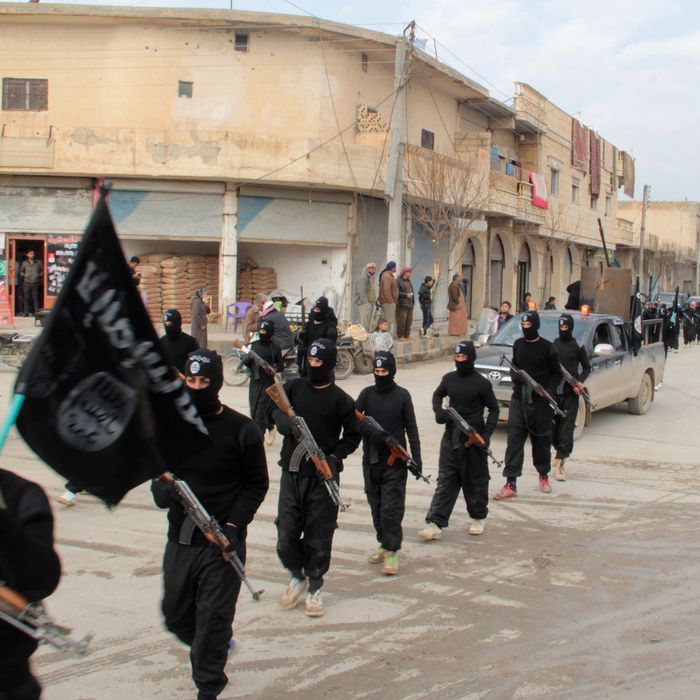 Photo: REUTERS/Yaser Al-Khodor
When President Obama announced plans to "degrade and ultimately destroy" ISIS militants two weeks ago, he suggested that it may be months before the campaign expanded from Iraq into Syria. However, on Monday night, the United States and its allies launched a major assault against the militants, hitting targets in the Syrian city of Raqqa, where the group has its headquarters, and along the Iraq-Syria border.
"I can confirm that U.S. military and partner nation forces are undertaking military action against [ISIS] terrorists in Syria, using a mix of fighter, bomber and Tomahawk Land Attack Missiles," Rear Admiral John Kirby, the Pentagon's press secretary, said in a statement.
The new operation is far larger than any of the strikes conducted against ISIS in Iraq over the last month, and it signals the start of a new phase in the conflict, which could drag on for months.
Admiral Kirby said that the decision to conduct the air strikes was made "earlier today by the U.S. Central Command commander under authorization granted him by the commander in chief," but declined to provide any further details, as "these operations are ongoing."
Just before the Pentagon announced the operation, residents of Raqqa began tweeting about a possible attack:
The full scope of the operation is unknown, but U.S. defense officials told the New York Times that targets include ISIS "weapons supplies, depots, barracks and buildings the militants use for command and control."
As the strikes began on Tuesday morning, it was also unclear which nations were participating. Administration officials said they would let their partners announce their involvement themselves, but the group is believed to include several Arab nations. President Obama is expected to discuss the international coalition when he addresses the United Nations on Wednesday.
The one nation that definitely isn't involved is Syria. While attacking ISIS will inevitably aid the Syrian government in the country's ongoing civil war, the Obama administration has said repeatedly that it would not seek the approval of President Bashar al-Assad before hitting the terrorist group in Syria. Defense officials said Assad — who was nearly the target of U.S. air strikes himself one year ago — wasn't warned that the operation would begin on Tuesday.
Update: Syrian state media claims that they weren't totally caught by surprise, as the U.S."informed Syria's permanent envoy to the U.N. that strikes will be launched against the Daesh terrorist organization in Raqqa."