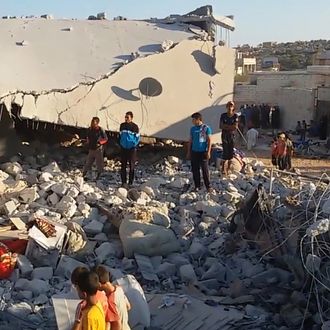 The aftermath of Monday's strikes in Syria.
Photo: AA Video/Anadolu Agency/Getty Images
Overnight air strikes against the Islamic State continued overnight Tuesday and into Wednesday morning in Syria and Iraq, with attacks against at least five more targets, including armored vehicles and a weapons cache, a.k.a. "targets of opportunity." With President Obama set to address the United Nations General Assembly at 10 a.m. in New York City, there's no question what's on the agenda. "There's definitely a second day and there will be a third and more. This is going to go on," Secretary of State John Kerry told CNN's Christiane Amanpour in an interview on Wednesday.
"I'm absolutely convinced that the coalition is onboard," Kerry added, although Obama will call on more nations to join the fight. David Cameron, for one, has said Britain has not "ruled out" air strikes. Obama will also push for a binding resolution, NBC News reports, that will encourage countries to prosecute citizens who take up arms with ISIS in hopes of preventing recruitment.
In the meantime, bombs will continue falling. "You and others should not be looking for some massive retreat in the next week or two," Kerry told Amanpour.