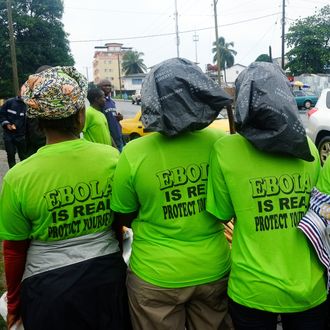 City workers wear shirts warning of Ebola in Monrovia.
Photo: DOMINIQUE FAGET/AFP/Getty Images
Amid calls for a more aggressive U.S. response to the Ebola outbreak in West Africa, President Obama is expected to announce during a trip to the federal Centers for Disease Control and Prevention on Tuesday that the U.S. is ramping up its efforts to contain the virus. According to The Wall Street Journal, the plan involves sending about 3,000 U.S. military personnel to the region to coordinate the international effort, build treatment centers, and train health-care workers. The first order of business will be setting up a headquarters in Monrovia, Liberia, and U.S. forces are expected to be on the ground there within two weeks.
The military will then help build 17 treatment centers throughout the region, each with 100 beds, along with a facility to train up to 500 health-care workers a week. The U.S. government will provide 400,000 Ebola home-treatment kits in Liberia, and tens of thousands of kits to allow people to test themselves to see if they're infected. The Associated Press reports that the effort will cost about $500 million and will come out of funds the Pentagon already requested from Congress to finance humanitarian efforts in Iraq and West Africa.
Dr. Michael Osterholm, director of the Center for Infectious Disease Research and Policy at the University of Minnesota, told the New York Times that while this is an important step, it still won't be enough. He said the effort is too focused on Liberia, though the outbreak has spread to Sierra Leone, Guinea, Nigeria, and Senegal as well. "We should see all of West Africa now as one big outbreak," he said. "It's very clear we have to deal with all the areas with Ebola. If the U.S. is not able or not going to do it, that's all the more reason to say the rest of the world has to do it."
It looks like that may happen later this week. Samantha Power, the U.S. ambassador to the United Nations, has called for an emergency meeting of the U.N. Security Council on Thursday. "This is a perilous crisis but one we can contain if the international community comes together to meet it head on," Power said.