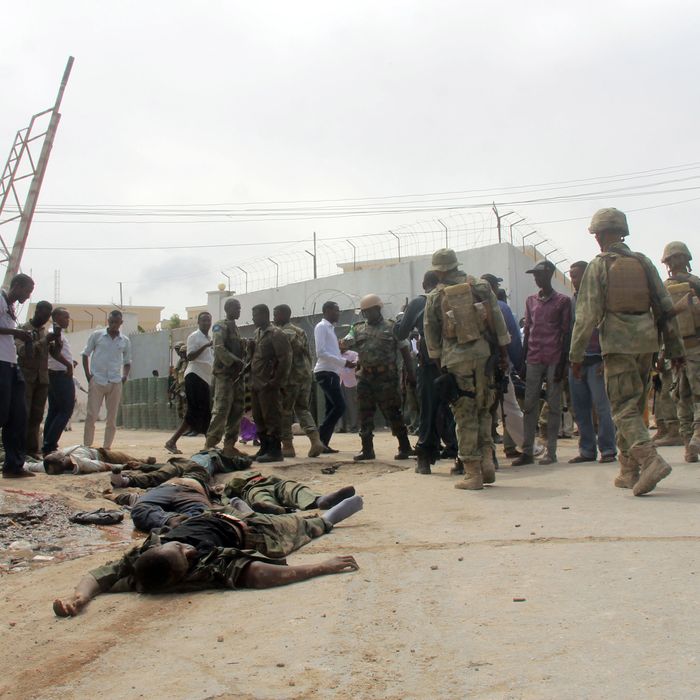 Photo: Faisal Isse/Xinhua Press/Corbis
Six Al Shabaab militants were killed in a U.S. drone strike on two of their cars Monday night as they were headed to the group's main base. 
According to reports, the target was a gathering of top leaders of the Somalia-based terrorist group. Among them was thought to be Ahmed Abdi Godane, the group's leader of six years, but it's not yet clear whether he was killed. An anonymous Somali official told CBS News that he "might have been killed along with other militants," but that may well be wishful thinking on the government's part. 
"So far Godane's death is a strong rumor that may or may not turn [out] to be true. What we know is that the militants were bombarded. However, it is difficult to know how many of them or who particularly died," a senior U.S. intelligence official told Reuters. 
This strike is part of an alliance between U.S. forces and the Somali government to limit the power of the militant group. According to the New York Times, about 100 American forces are in the country, working with a 22,000-strong local force. Because of joint efforts, Al Shabaab has largely been driven out of the Somali capital of Mogadishu but still carries out attacks in the region.
On Sunday, militants attacked a government prison in the city.
Last year, the militant group took over Kenya's Westgate mall, killing 67 people in a brutal multiday siege. Among their alleged members is Samantha Lewthwaite, a British woman known as the "White Widow" whose husband took part in the London subway bombings. 
The group has formally pledged allegiance to Al Qaeda, but there are few practical implications of that alliance. A similar strike in January killed one of Godane's top-ranking associates, Ahmed Mohamed Amey.